WATCH THIS SPACE FOR MORE UPDATES AND EVENTS
2023
SEPTEMBER

Sakura Japanese Cherry Tree Ceremony - 5th Sept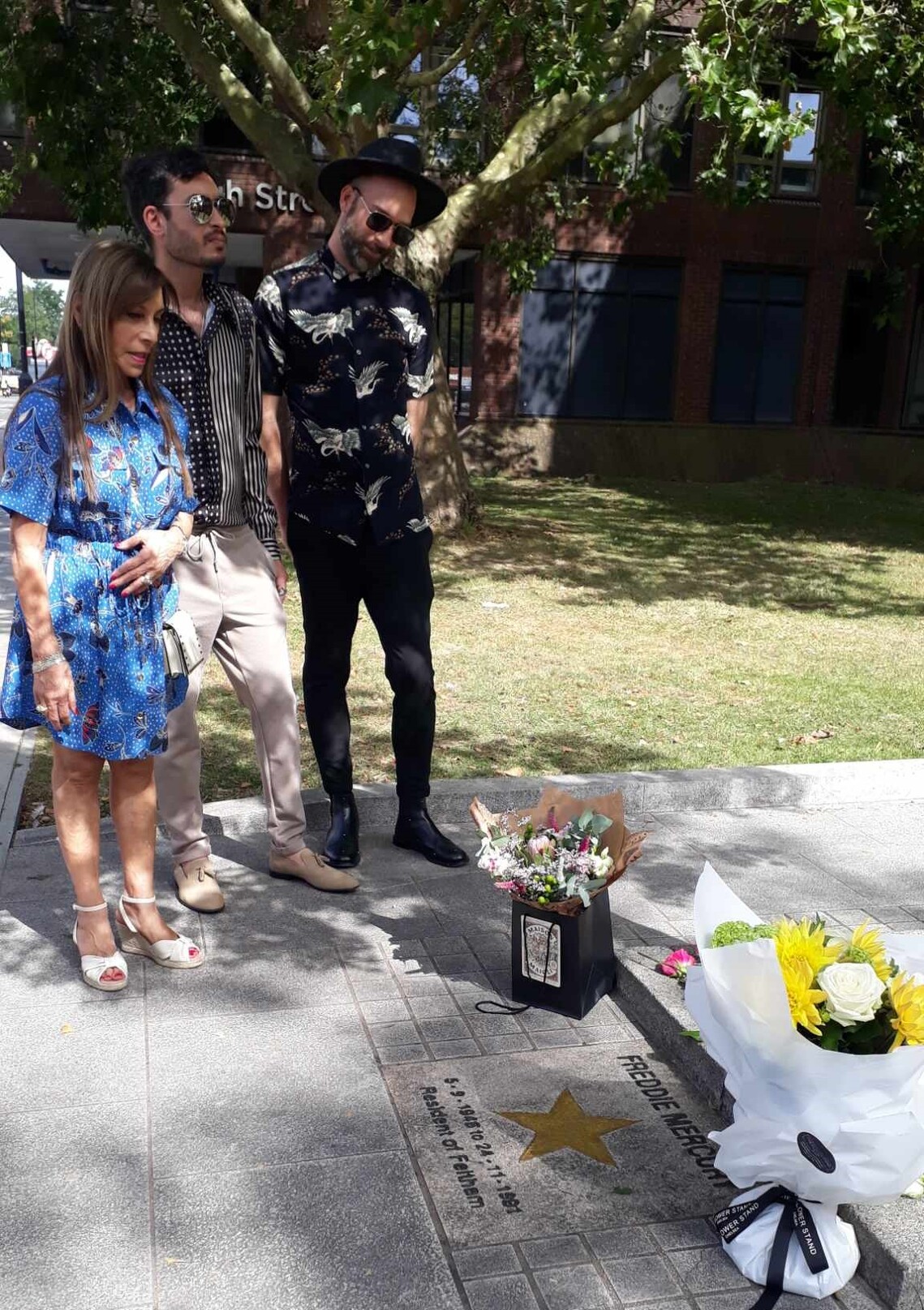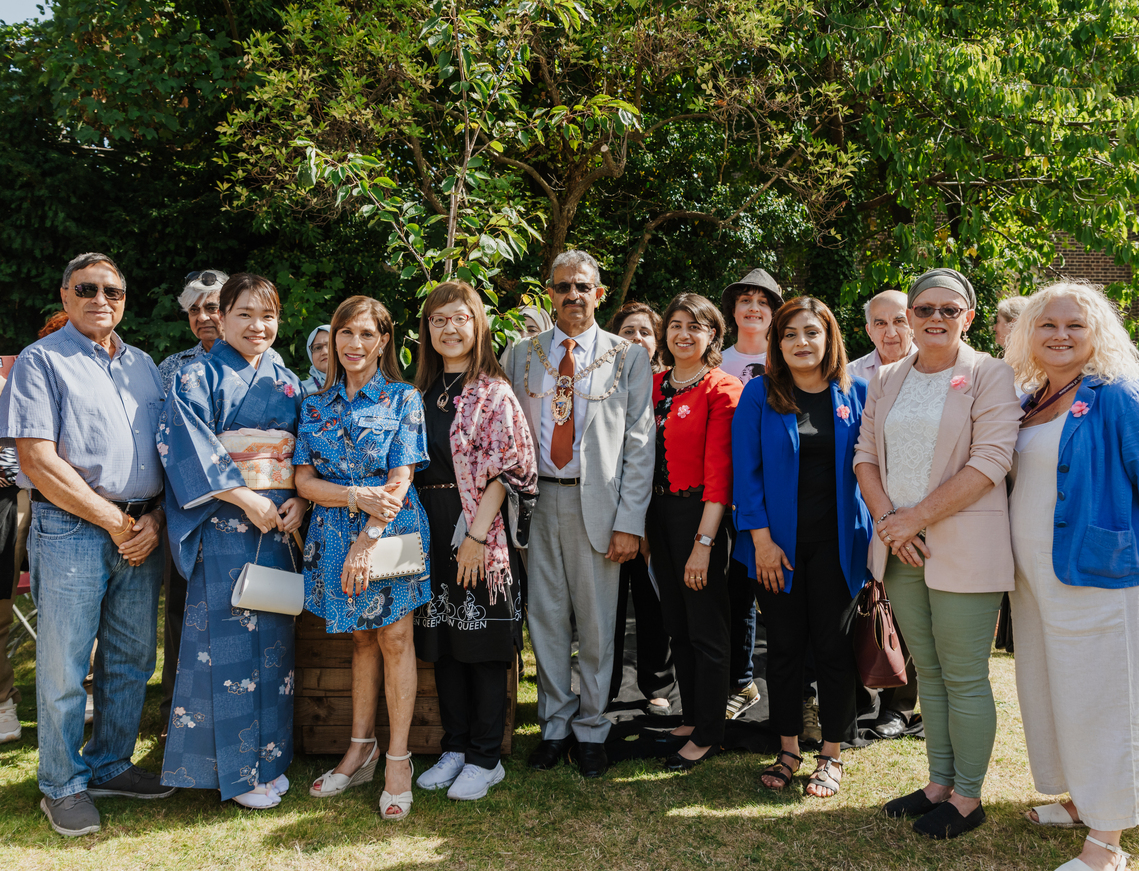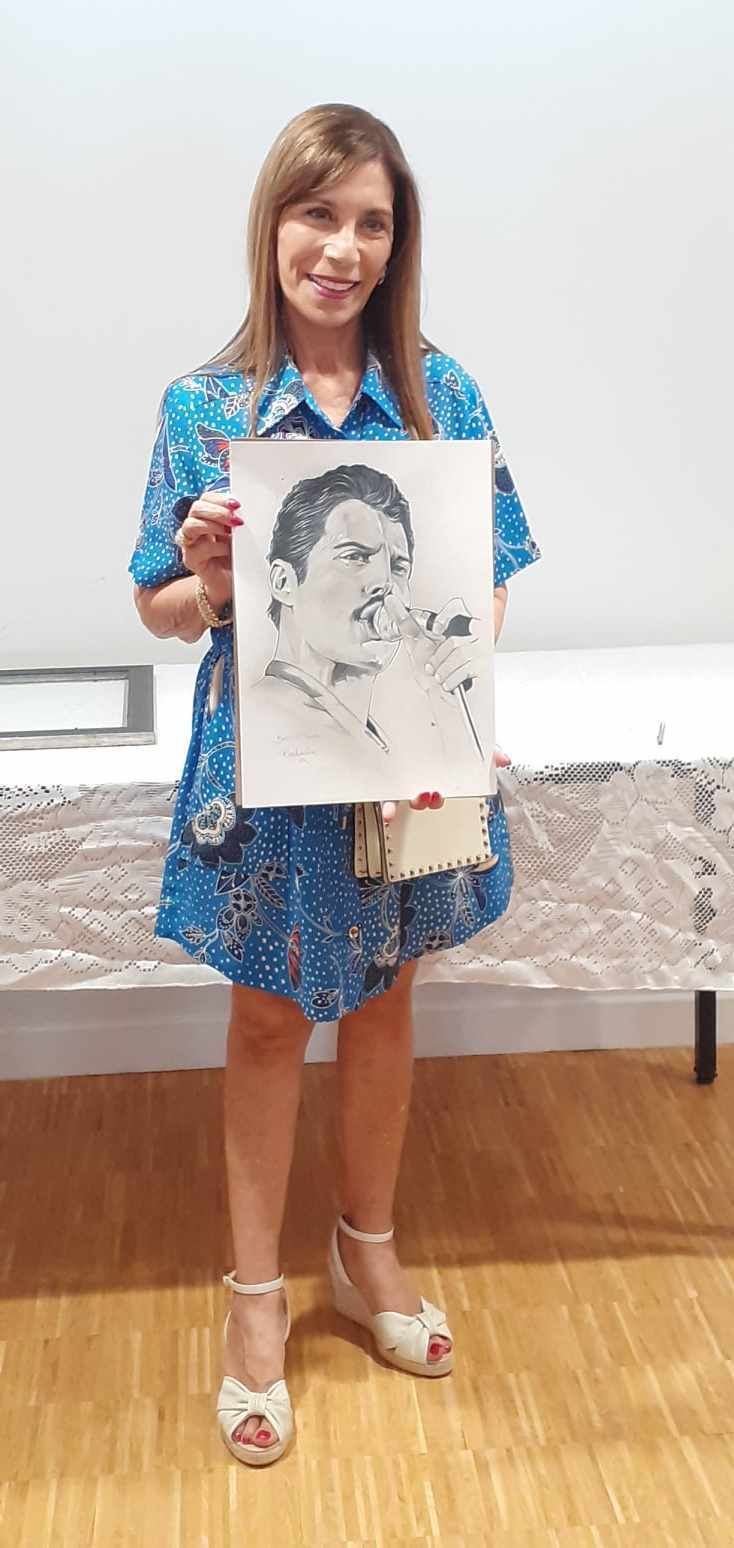 Picture 1 Picture 2 Picture 3
(1) Kashmira Bulsara (left) with son and partner Laying flowers at her late brothers memorial
(2) Group photo with Japanese campaign organisers Riko Tateiwa and Emi Sato, Kashmira Bulsara, Mayor of Hounslow Afzaal Kiani, MP Seema Malhotra, local councillors and Chair of Friends of Feltham Green Angela Parton
(3) Kashmira holding the portrait by Jamie Beal, which will be auctioned later this year to raise money for a plinth/bust of Freddie Mercury within the newly created memorial garden.
In 2018 before Friends of Feltham Green officially became a group a GoFundMe campaign was set up to raise funding to create a garden around the Freddie Mercury memorial, which eventually came part of Feltham Green's improvement masterplan with Hounslow council. The heart warming messages world wide was over whelming and high lighted greatly that fans wanted a special place to lay tributes and to keep alive the love and memory of Freddie Mercury.
A group of Japanese fans (Riko Tateiwa, Emi Sato and Kumi Earnshaw) came forward to suggest a Sakura Japanese Cherry Tree to be included within the garden landscape as Freddie while touring Japan fell in love with the gardens and country. So, in 2020 through the Covid pandemic we started to organise the campaign with Japan and Hounslow Parks team.
The Sakura Japanese Tree crowdfunding campaign went live in Japan on Freddie's Birthday 5th September, 2022 within 48 hours of the campaign opening the required amount of funding was smashed. So, organising of the tree ceremony started and Kashmira Bulsara (Freddie's sister) very kindly accepted our invitation to unveil the tree with the Mayor of Hounslow.
Words it self cannot express enough how thankful Friends of Feltham Green are for all the support and help we had to make the ceremony such a proud day for Feltham.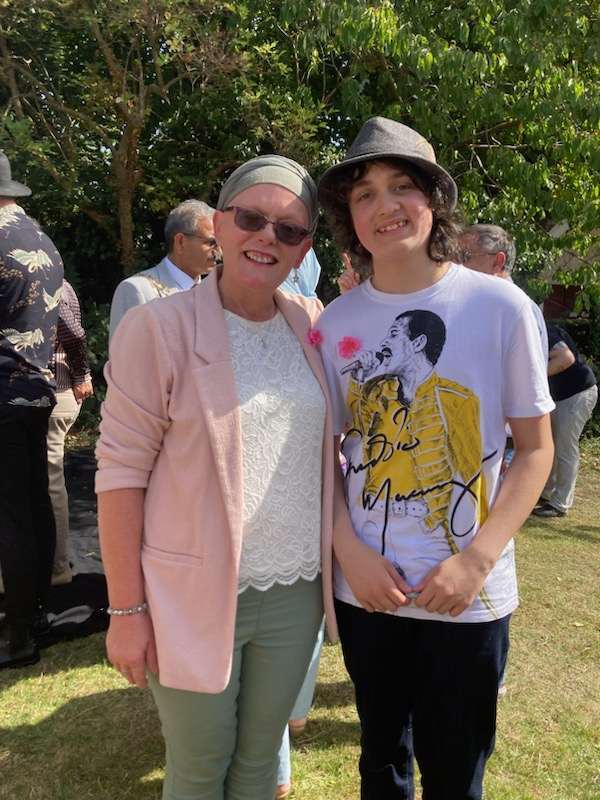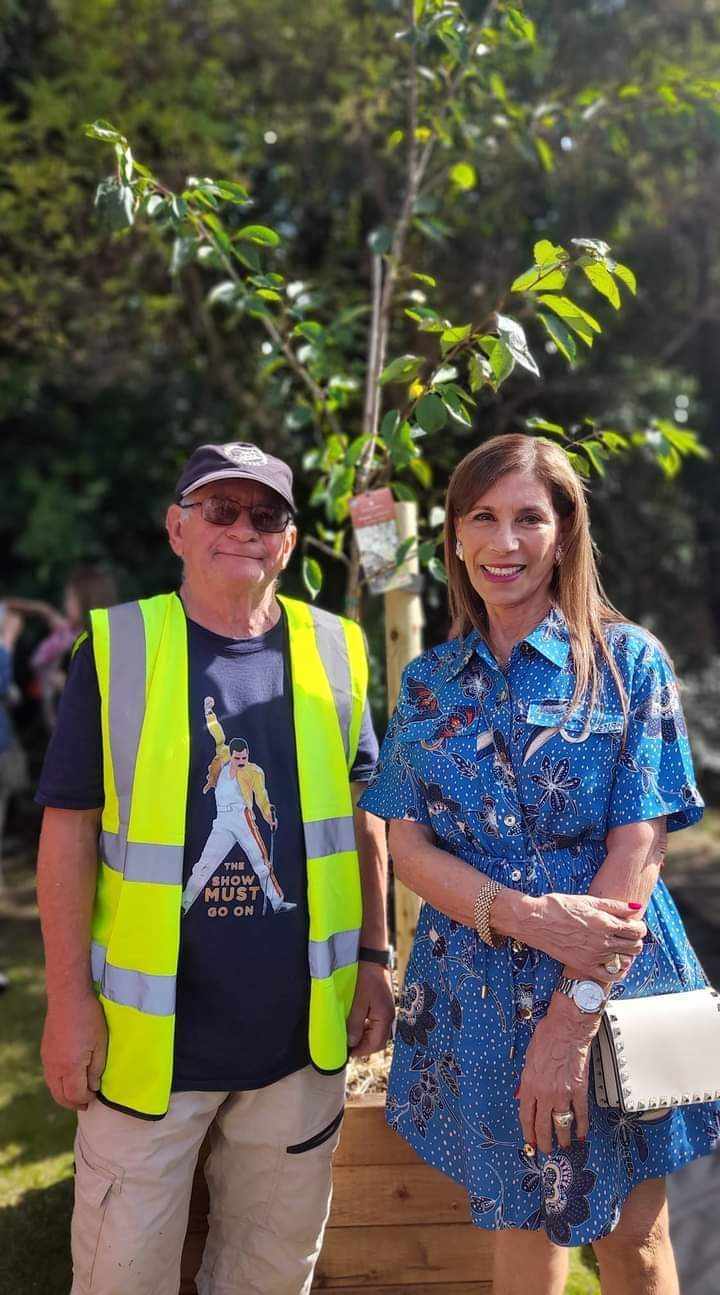 Dune Rae-Reed singer/musician George Cover (committee member) with Kashmira
AUGUST / SEPTEMBER
FREDDIE MERCURY & BRIAN MAY HERITAGE TOURS
Friends of Feltham Green hosted 2 days of tours for fans, due to train strikes many visitors wasn't able to attend but a few did with many thanks. With thanks as always to World Zoroastrian Organisation for supporting the tours and giving a wonderful talk and tour of Zoroastrian House and prayer room.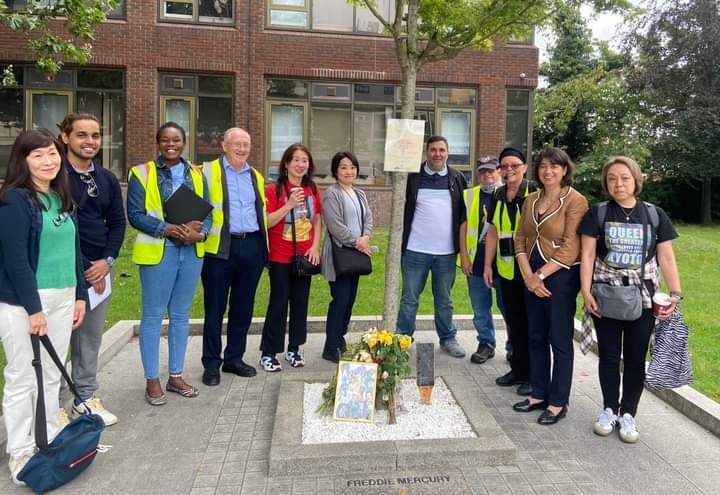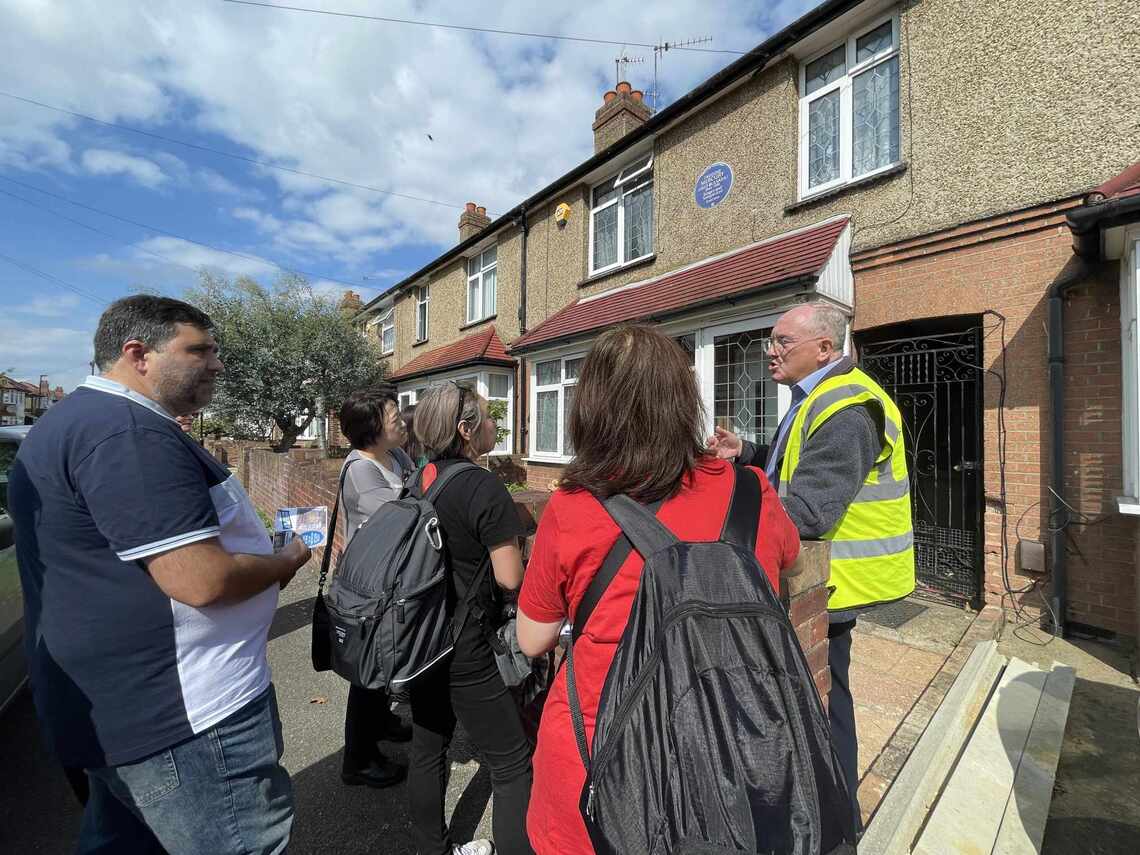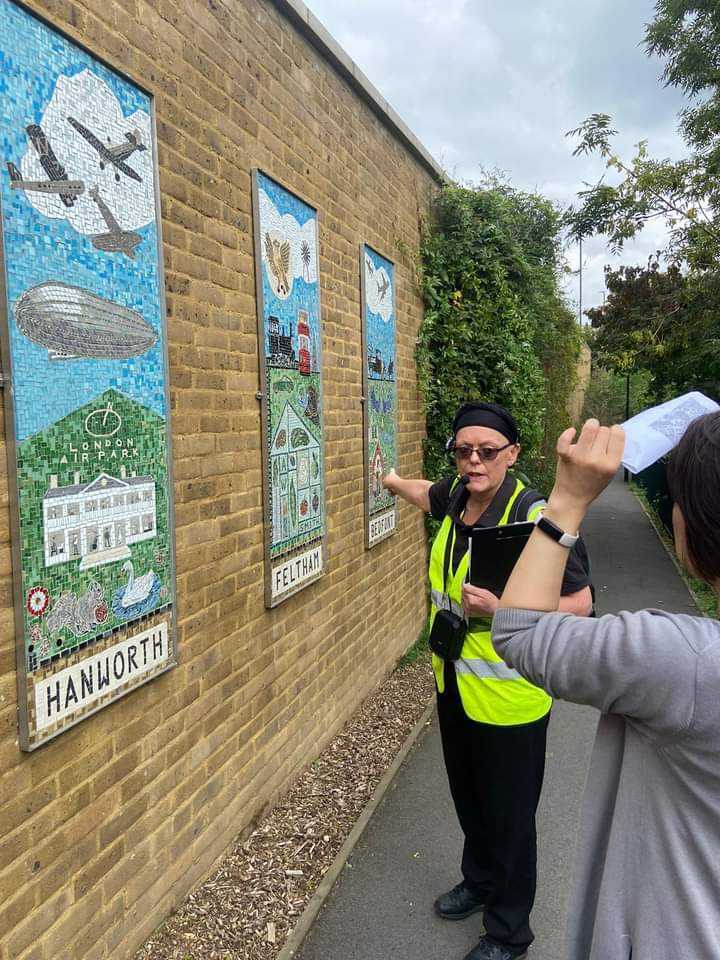 JULY
Friends of Feltham Green gives a very big thank you to The Centre for its generous donation. They are our first 'swan' member. The funding will help us ensure that the planters on the railings along the High Street always look good, whatever the season. We are a small voluntary organisation and rely on support from local people and businesses to help make Feltham a great place to live, work and visit. The Centre is home to a wide variety of shops as well as our local library and Feltham Arts.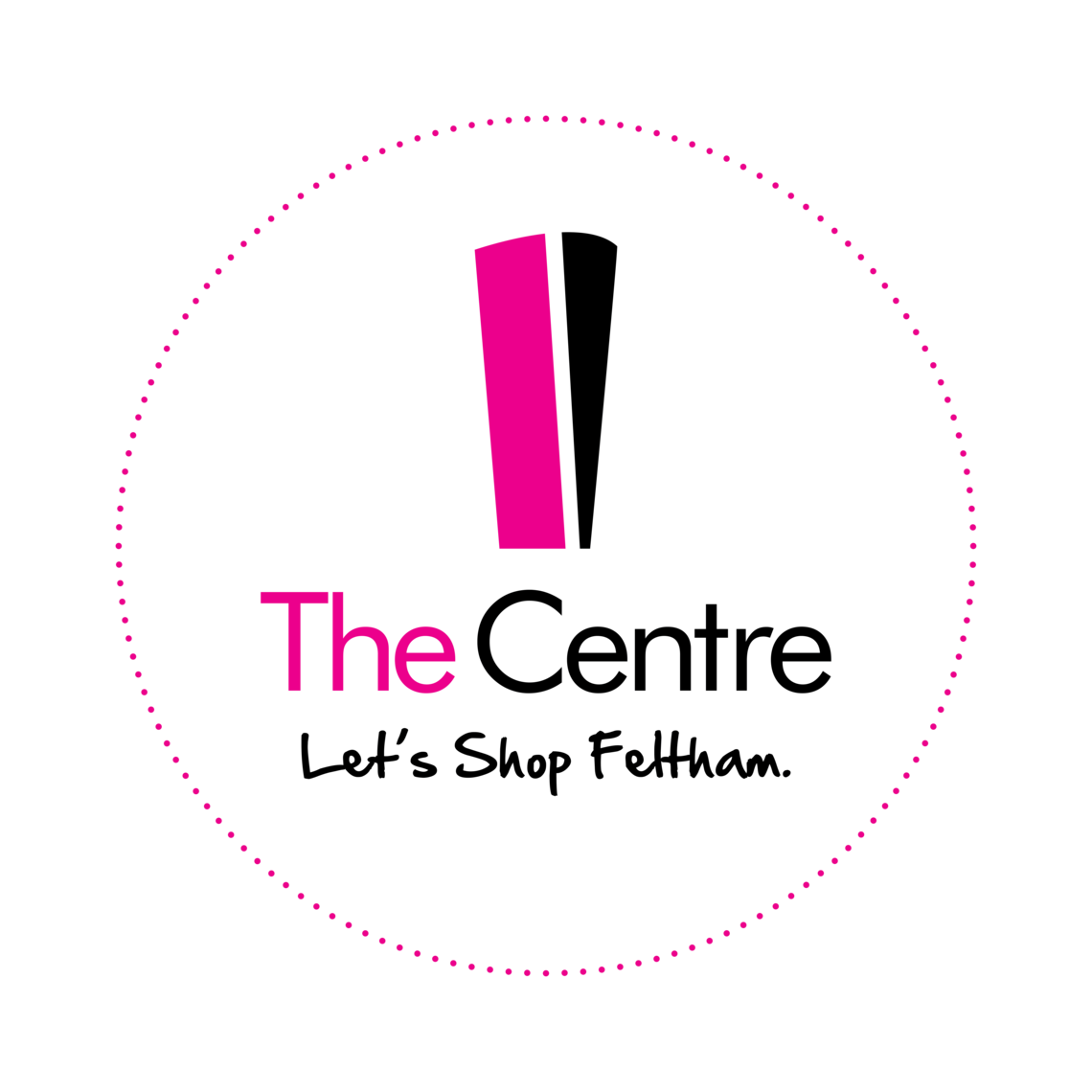 MAY
Friends of Feltham Green presented a history talk 'The Three Jewels of Feltham Crown' to U3A Ealing members. The talk covered the general history from c1800 and 3 remaining ponds of Feltham. It also covered present day the work the community groups are doing to help maintain the towns parks/greenspaces and promoting all the wonderful things about Feltham and famous people connected to the town.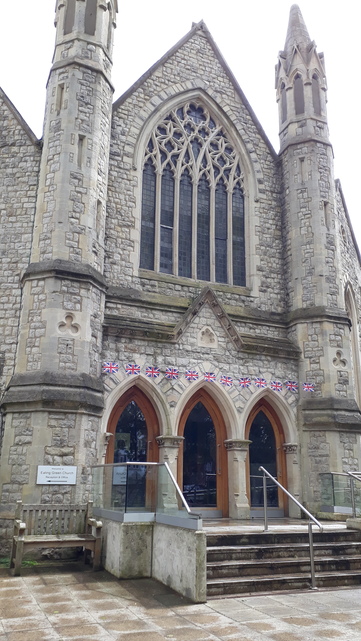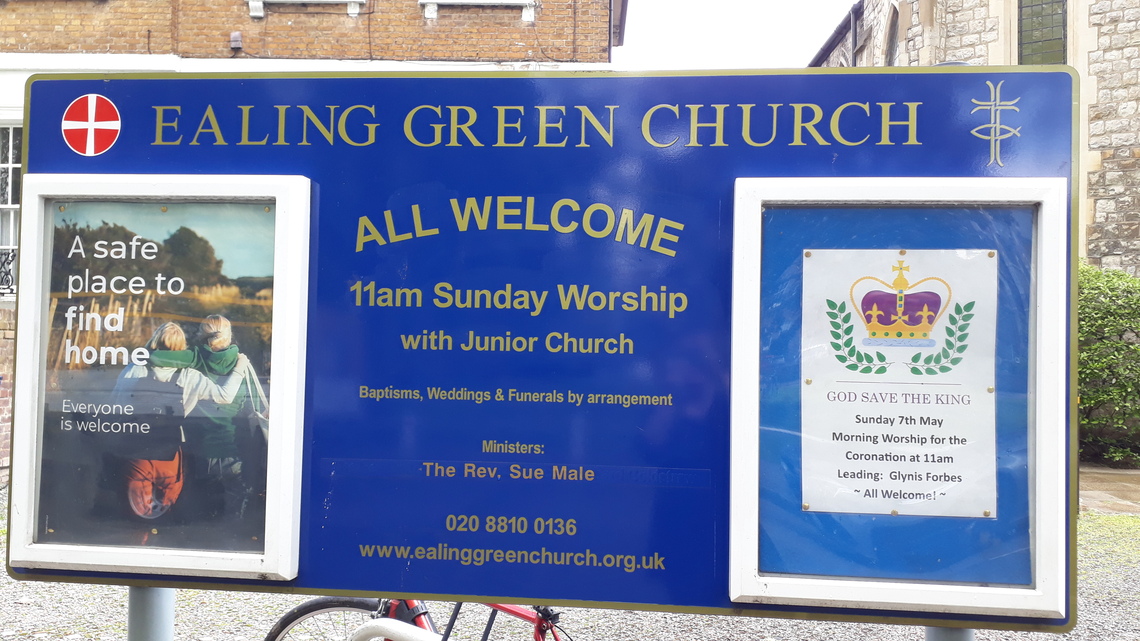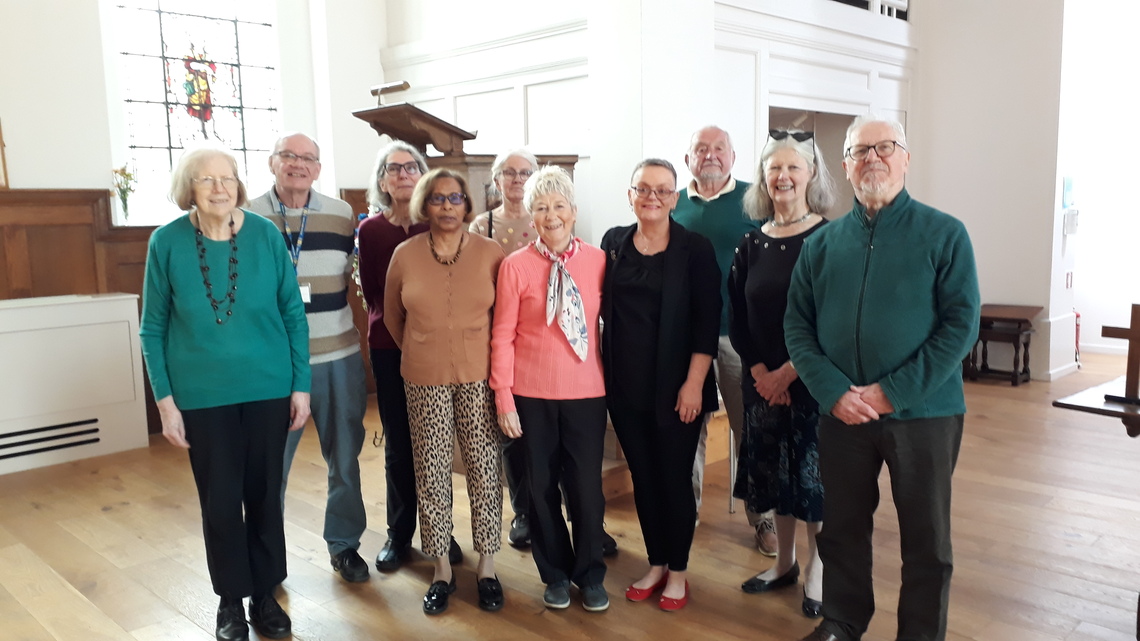 Pictured above U3A committee members with Chair of Friends of Feltham Green Angela Parton (Derek Atkinson/Sue Southeran Vice chairs, Patricia Donnithorne Secretary, Liz Major Treasurer, Phil Broomsgrove Webmaster, Sue Peach Interest Groups Coordinator, Jurek Narozanski Assistant Webmaster, Lyn Duffas Membership, Margaret Practor New Members Liaison)
Email of thanks from U3A
QUOTE
It is always my pleasure, as Chairman of Ealing U3A, to write to speakers who have given our members such an excellent, interesting and well delivered presentation. Your talk about the history of a relatively nearby Middlesex village/town certainly fits the bill and was enjoyed by some 120+ of our membership.
It was a well-researched presentation covering the social change over 200+ years from a small agricultural village to such a thriving and expanding modern town.
We were very impressed with the way that the various community organisations and individual volunteers have worked to clean up the parks and green spaces and the efforts that continue to be made to enhance the fabric of the town. The drive that you in particular exhibit will, I am certain, ensure that this momentum will continue and I send you my best wishes for your future plans.
Many thanks again for an enjoyable Thursday morning,
Derek Atkinson
Co Vice Chair of Ealing U3A
UNQUOTE
APRIL
Easter Egg Hunt and Egg and Spoon Race at Feltham Green on Saturday 8th April between 12-2pm
A special thanks to Tesco's and Lindt Chocolate for their donations to this event.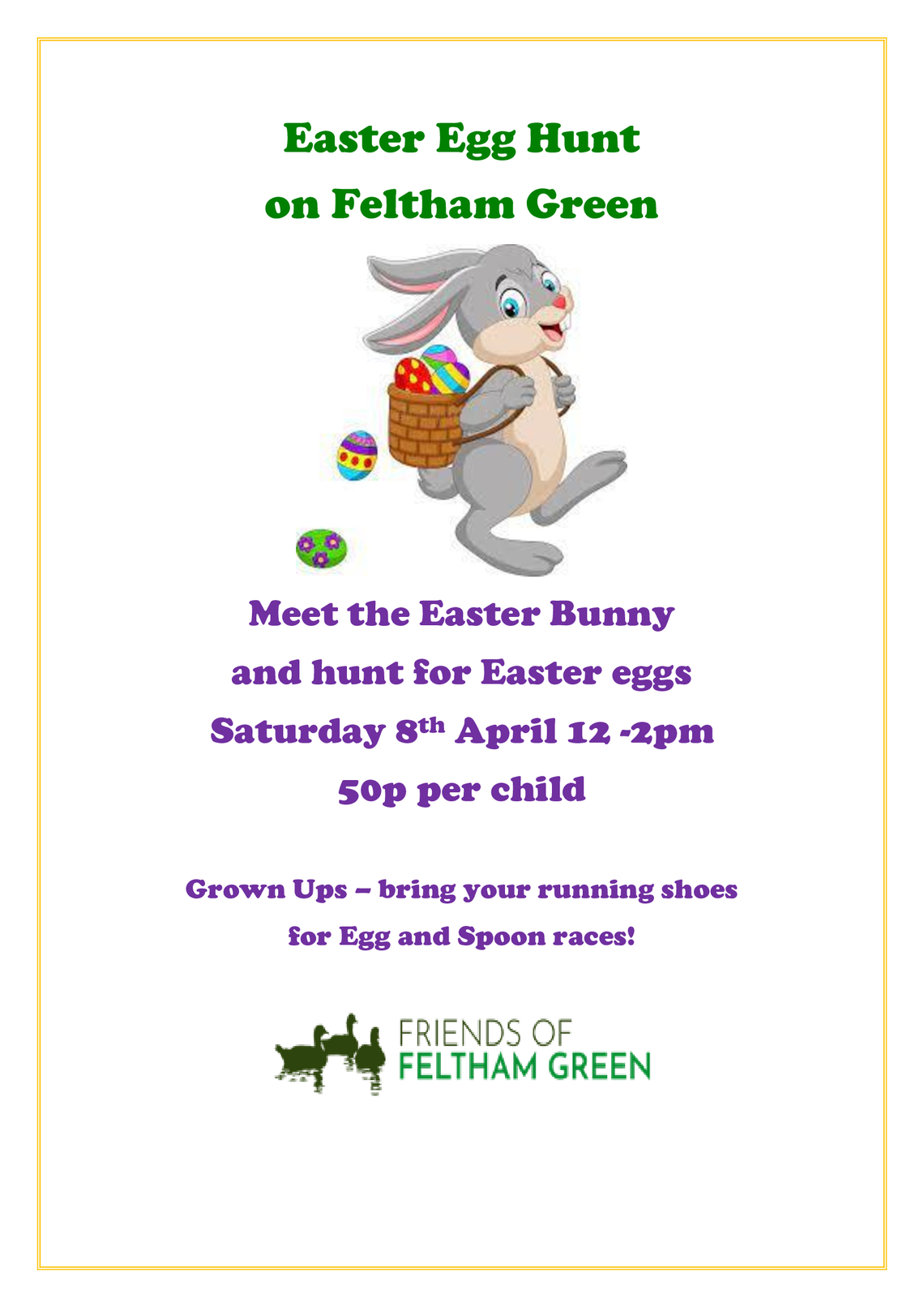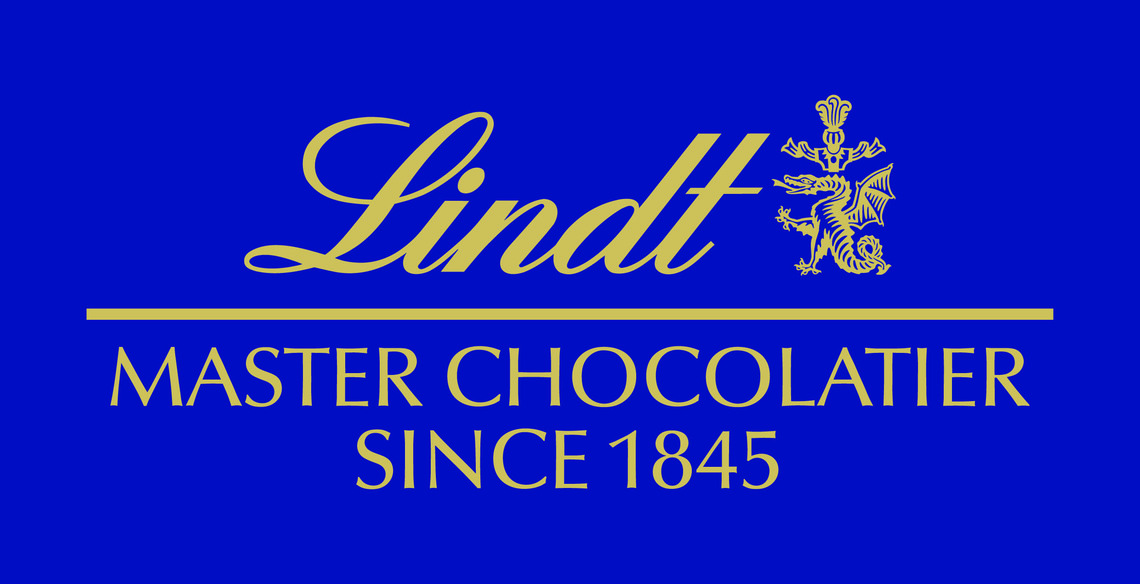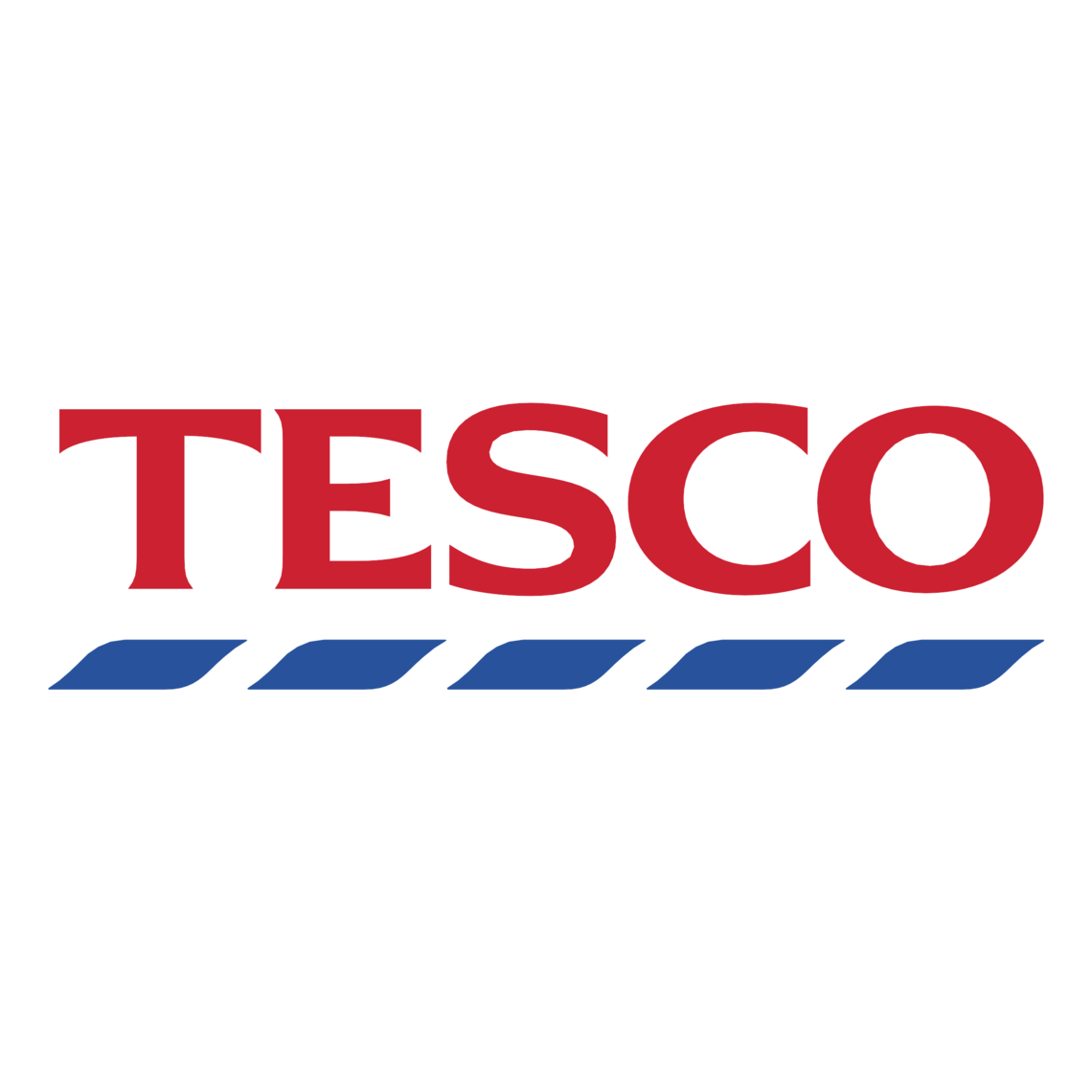 FEBRUARY
Our next 'Gardening Day' is on Saturday 25th February between 11-2pm. All are welcome; children must be accompanied by an adult at all times. We will be planting up the planters and water trough with their spring display, weeding, sweeping, litter picking and clearing the pond if necessary.
WELL DONE JAPAN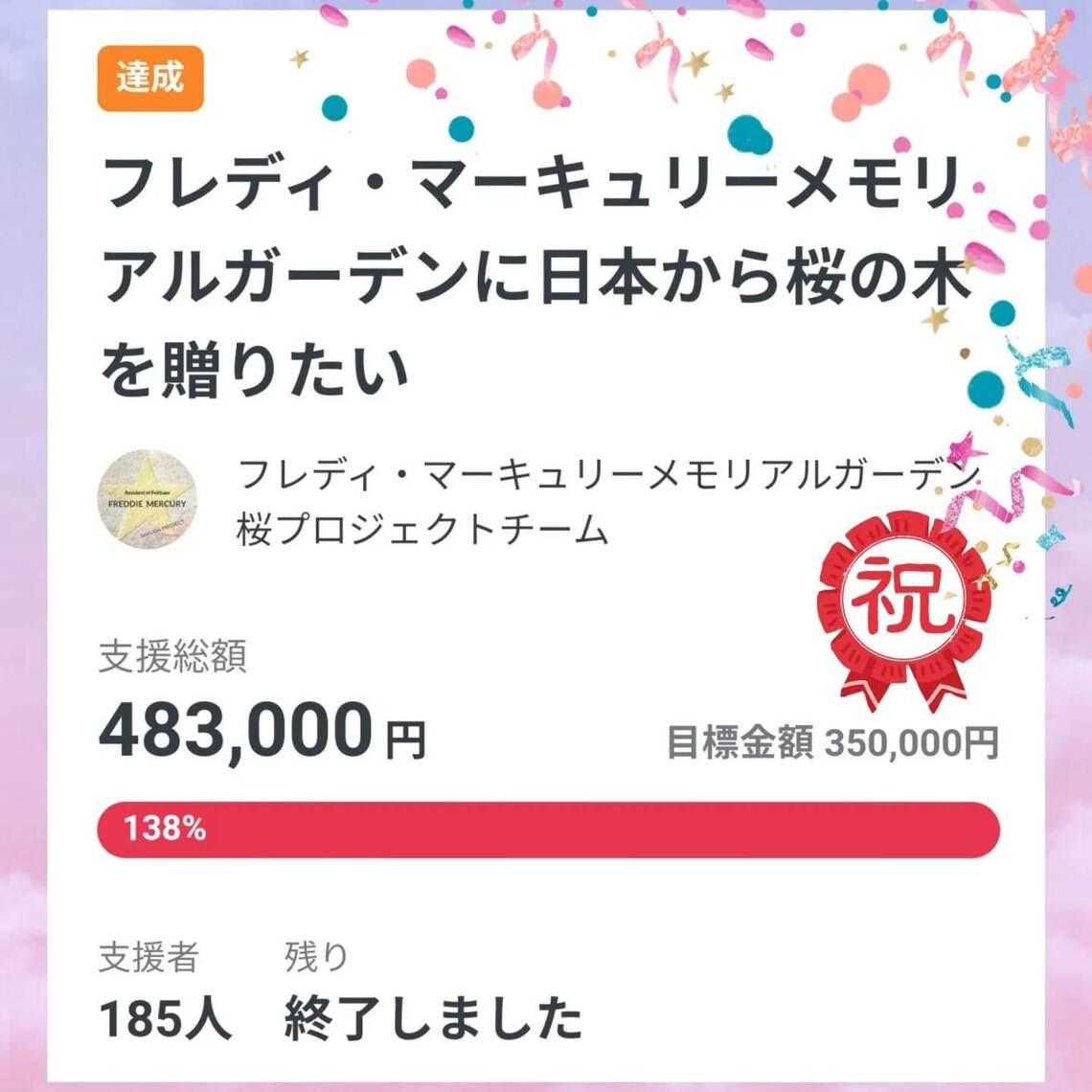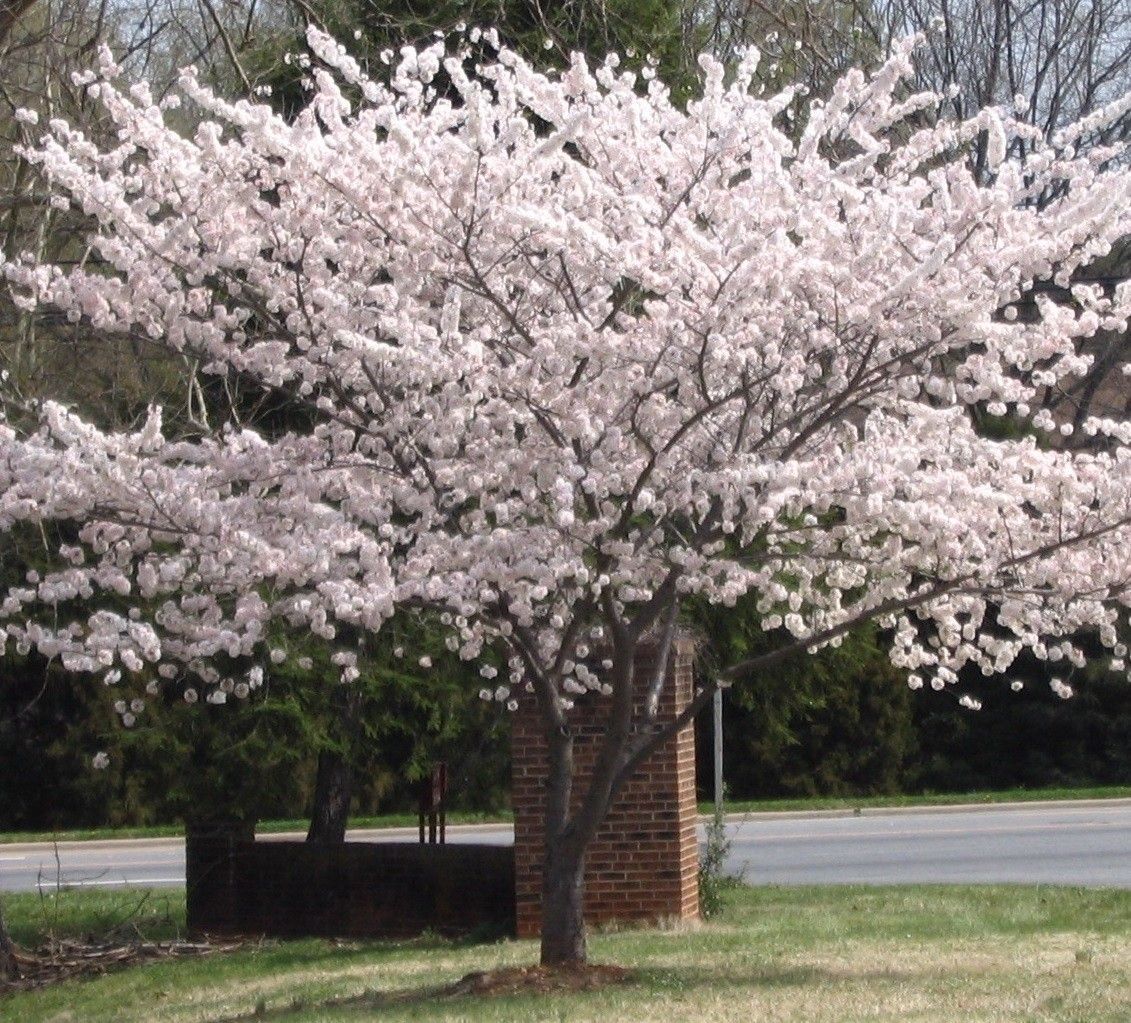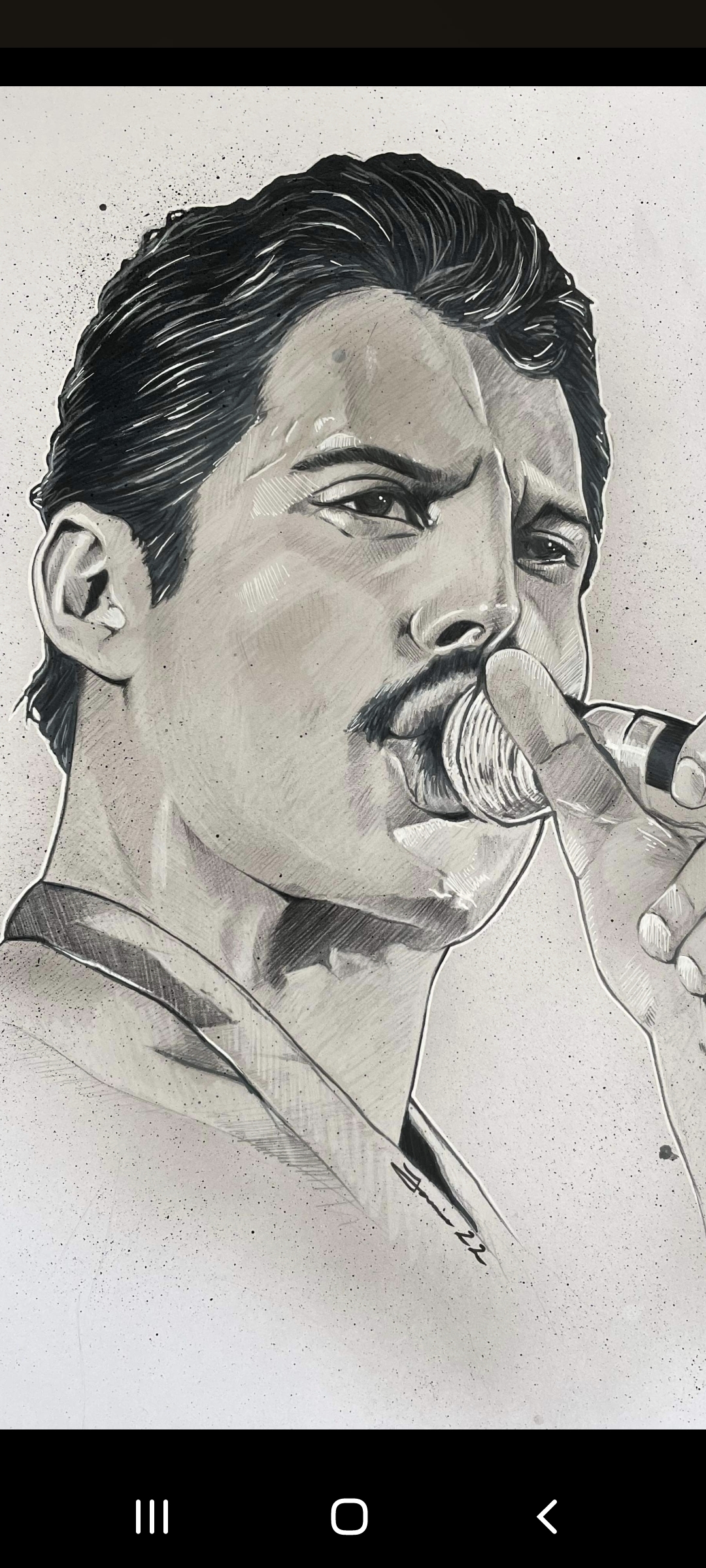 Riko Tateiwa , Emi Satoh and Kumi Earnshaw are very pleased to announce that the Sakura (Cherry Blossom) Project has achieved its goal and more.
On 25 November 2022, we launched a crowdfunding campaign in Japan to raise funding for a Sakura tree, plaque and maintenance cost in the soon to be created Freddie Mercury Memorial Garden in Feltham UK. Our target amount was ¥ 350,000 (approx.£2,000), and it was achieved within 24 hours. The fundraising continued for 59 days and closed on Monday 23 January 2023. The total amount of the fund is ¥483,000 (approx. £3,000), which was donated by 185 Japanese fans.
The organisers of the campaign are so touched by the deep love for Freddie from Japanese fans.
Japanese fans are very much looking forward to visit Feltham to see the cherry tree blossom in spring for many years to come, once it has been planted within the memorial garden.
We are sure that Freddie will be just as happy to see the cherry blossoms as he once did when he lived in Garden Lodge.
-----------------------------------------------------------------------------------------------------------------------------------------------------------
2022
NOVEMBER 17TH
Queen's Platinum Jubilee and DGC (Defence Geographic Centre) 60th Anniversary Tree Planting Ceremony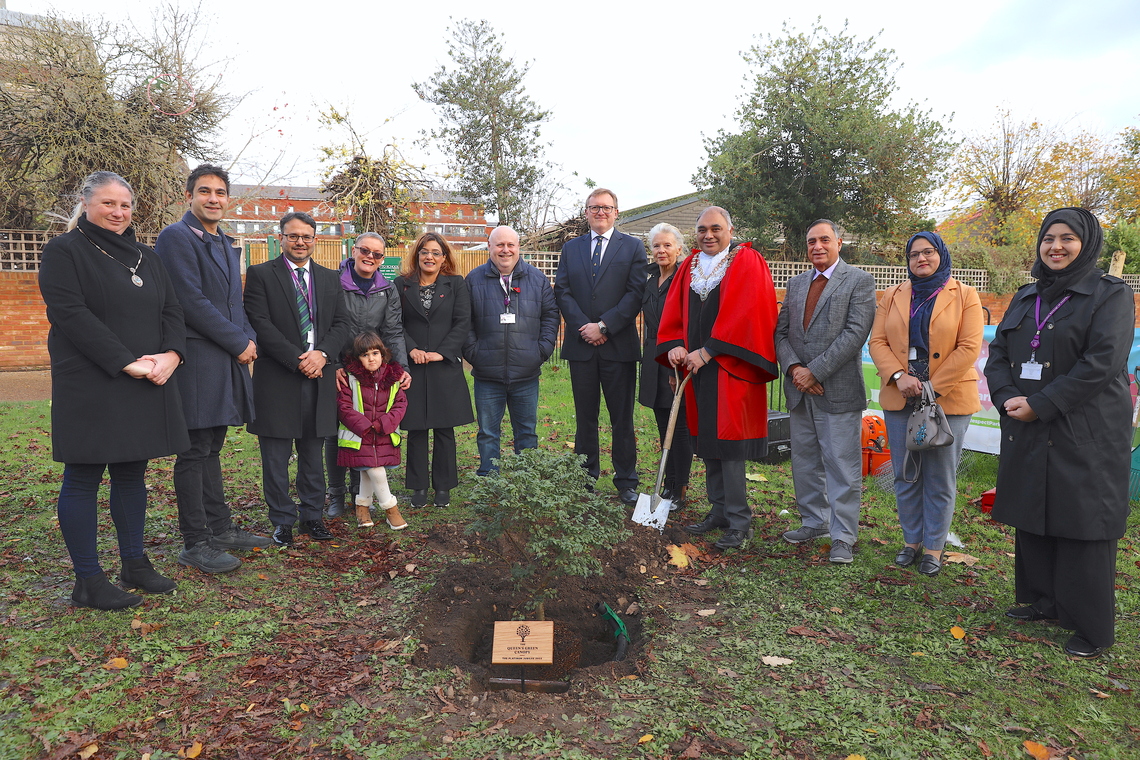 Pictured: Deputy Mayor; local councillors; Chair Friends of Feltham Green; Adelina, St Albans Day Nursery; Ian Spencer, DGC Director; Rosi Prescott, Deputy Lieutenant of Greater London (representing King Charles III); Mayor of Hounslow, Shantanu Rajawat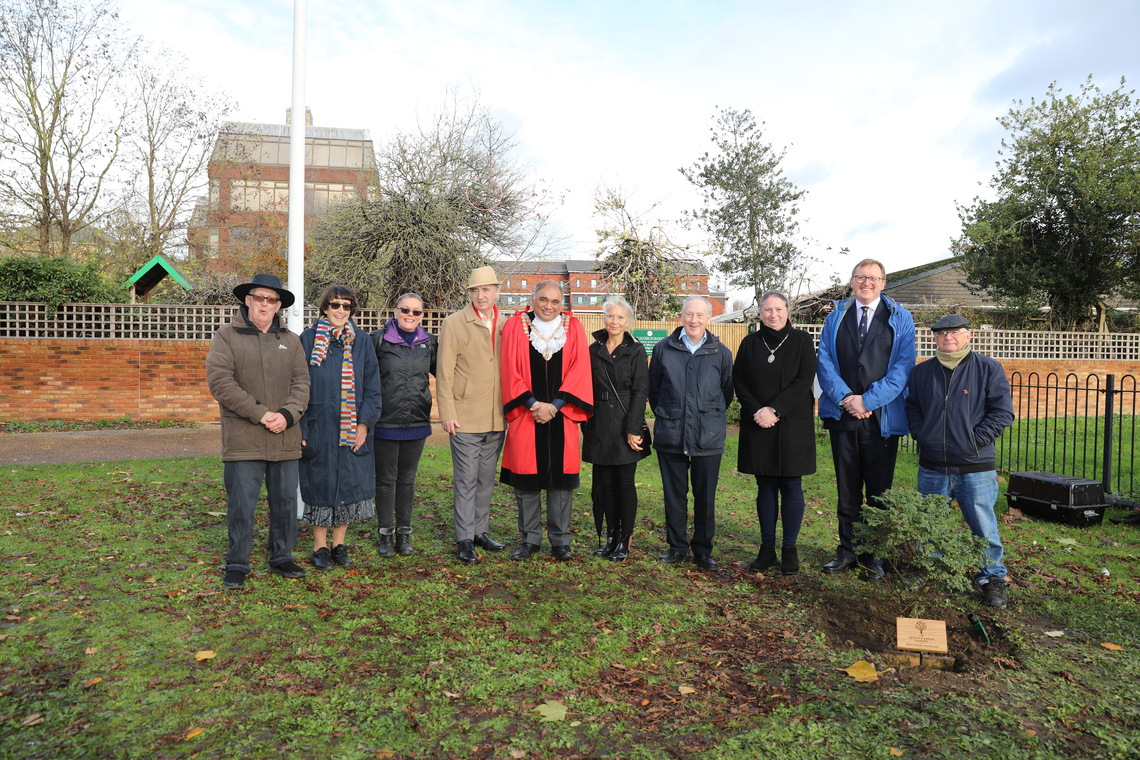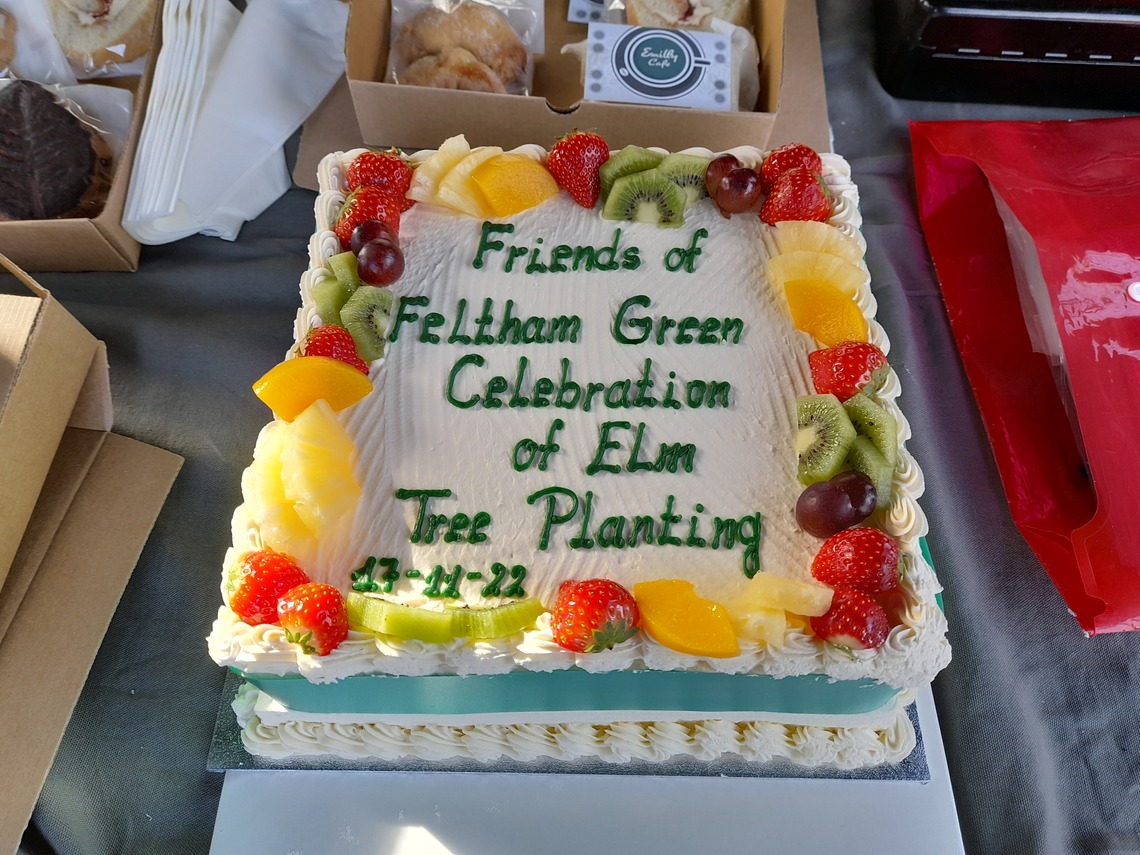 Cake from Seema Maholtra MP
Committee members of Feltham History Group, Friends of Feltham Green and Vicar of St Dunstan's church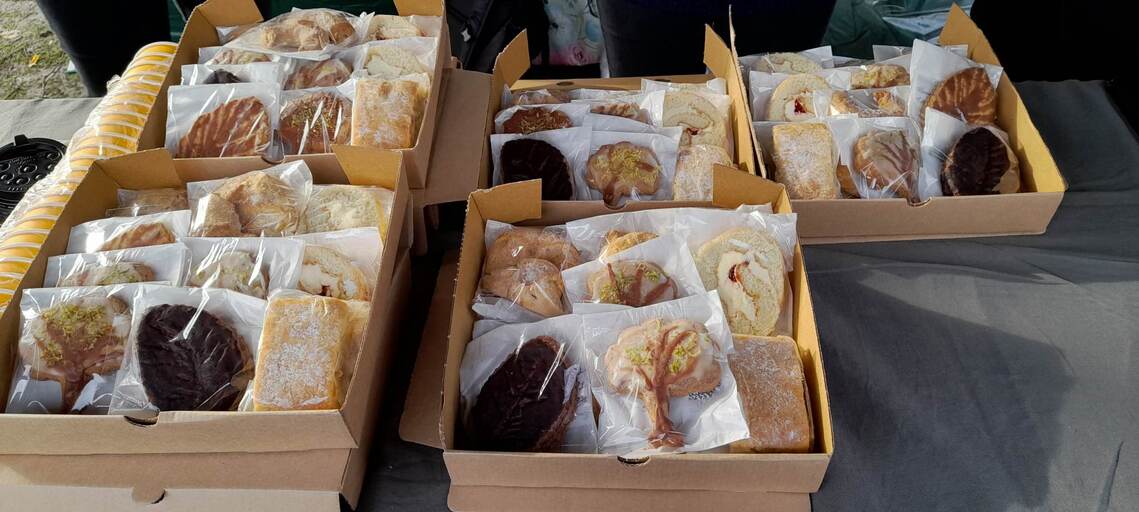 Biscuits/cakes supplied by Emily's Cafe (Feltham)
The Queen's Green Canopy is a unique tree planting initiative created to mark Her Majesty's Platinum Jubilee in 2022 and then extended to give people the opportunity to plant trees in memoriam to honour Her Majesty. The scheme aims to create a living legacy with over a million trees planted in Her Majesty's name across the nation. It will serve as a lasting tribute to Her Majesty's extraordinary service to her country and her people.
A miniature elm tree was planted on Feltham Green on Thursday 17th November by the Mayor of Hounslow and Ian Spencer, Director of the Defence Geographic Centre (DGC), which is based in Elmwood Avenue in Feltham. The tree was donated by the DGC in recognition of all the great work by local community groups, such as Friends of Bridge House Pond, Friends of Feltham Green, Friends of Hanworth Park House and Feltham History Group. The tree has been specially bred to be resistant to Dutch elm disease, which has caused the death of so many magnificent elm trees. The choice of tree refers to the DGC's current location in Elmwood Avenue and celebrates its 60th Anniversary at Feltham Garrison. The DGC's historic connection to Feltham is the subject of one of the carvings on the front of the wooden planters that line the railings along the Green.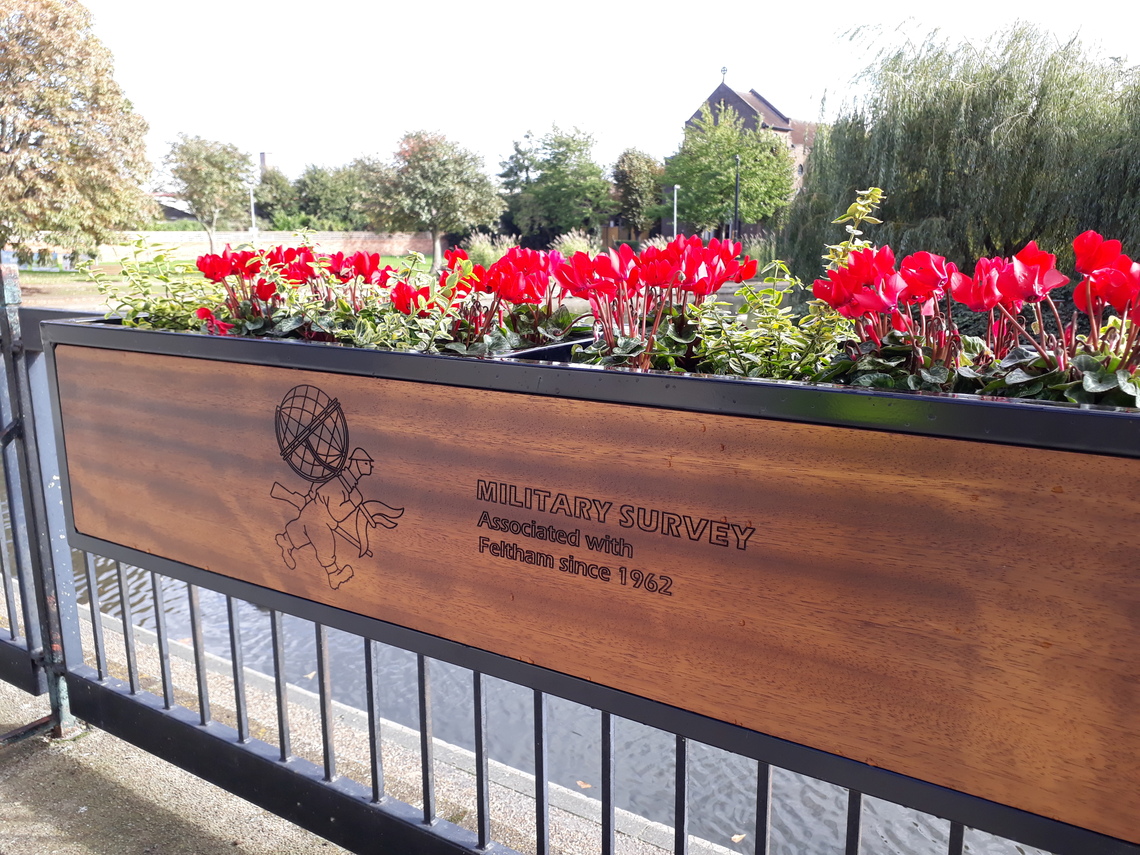 The tree planting ceremony was organised by the Friends of Feltham Green and attended by a large group of local people. The Friends are grateful for support for the ceremony and for a commemorative plaque from Hounslow Council's Thriving Communities 'Your Neighbourhood scheme'.
Ian Spencer, Director of the Defence Geographic Centre, said:
2022 is the 60
th anniversary of the nation's military geography and mapping capability taking up its current home at MOD Feltham (otherwise known as Feltham Garrison) and also witnessed the Platinum Jubilee of Her Late Majesty The Queen. MOD Feltham is set to close in the near future bringing an end to over a century of military activity on an around Elmwood Avenue. The Defence Geographic Centre will move to a new home at RAF Wyton in Cambridgeshire. We celebrated the anniversary and jubilee by acquiring a miniature elm tree as part of HM The Queen's Green Canopy project, to take with us to RAF Wyton as a lasting memory of our long-time home in Elmwood Avenue, Feltham. We decided to acquire a second tree to give to the people of Feltham as a lasting thank you, in recognition of their support to the many military and civilian Crown Servants who have worked in Feltham since 1917. I am very grateful to the Defence Geographic Centre team for organising the fundraising and acquisition of the trees, and to the Friends of Feltham Green and the London Borough of Hounslow for supporting and arranging the planting of the new Elm tree in the heart of Feltham.
Angela Parton, Chair of Friends of Feltham Green, said
"I am so proud that our new tree on Feltham Green will make a contribution to the Queen's Green Canopy and can't think of a better way to mark her inspirational service. I would like to say a special thank you to the DGC for donating the elm tree and also to all the volunteers that work tirelessly to make Feltham a better place to live, work and play."
NOVEMBER 2022
'Platnium Jubilee' Elm tree planting ceremony (Thursday 17th November at 11.30am)
DGC (Defence Geographical Centre) Elmwood Ave, Feltham has very generously donated a miniature elm tree to the people of Feltham.
Two miniature elm trees were bought, funded by DGC staff donations. The DGC tree will stay at Feltham in a planter until eventually planted at Wyton when sadly the Feltham site closes in 2026.
The second tree will be planted at Feltham Green with the official plaque part of the 'Queen's Green Canopy' project.
The tree planting ceremony will be conducted by the Mayor of Hounslow and Director of DGC Mr Ian Spencer, attended by local councillors, community groups, businesses, schools, children nurseries and residents.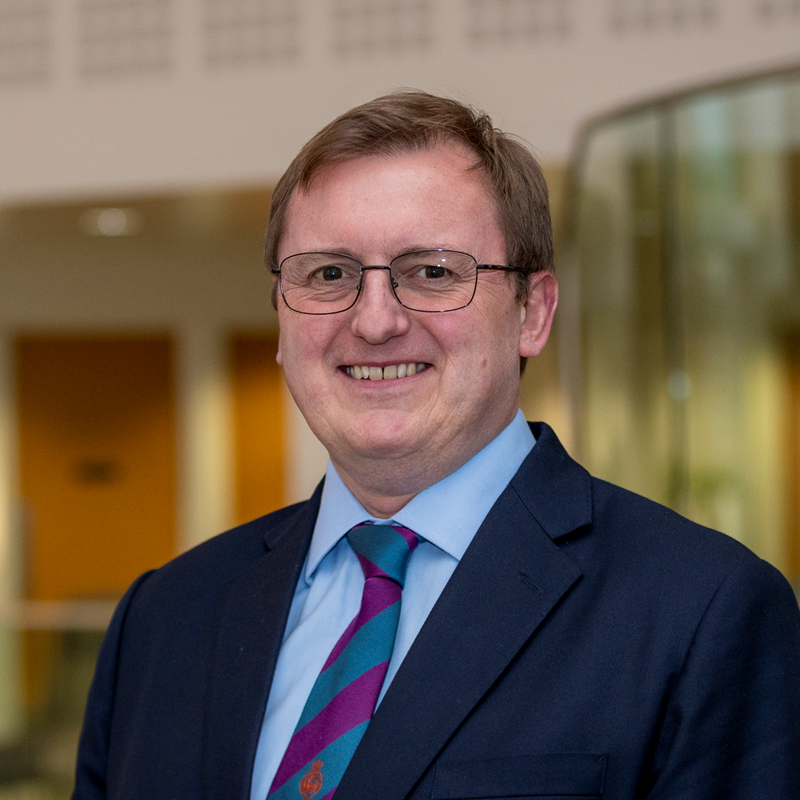 Ian Spencer (DGC Director) Feltham
Refreshments will be served and cakes supplied by the newly opened Emily's Cafe by Bridge House pond.
Next Gardening Days
Sunday 6th November - 10am to 1pm
Saturday 12th November - 10am to 1pm
OCTOBER 2022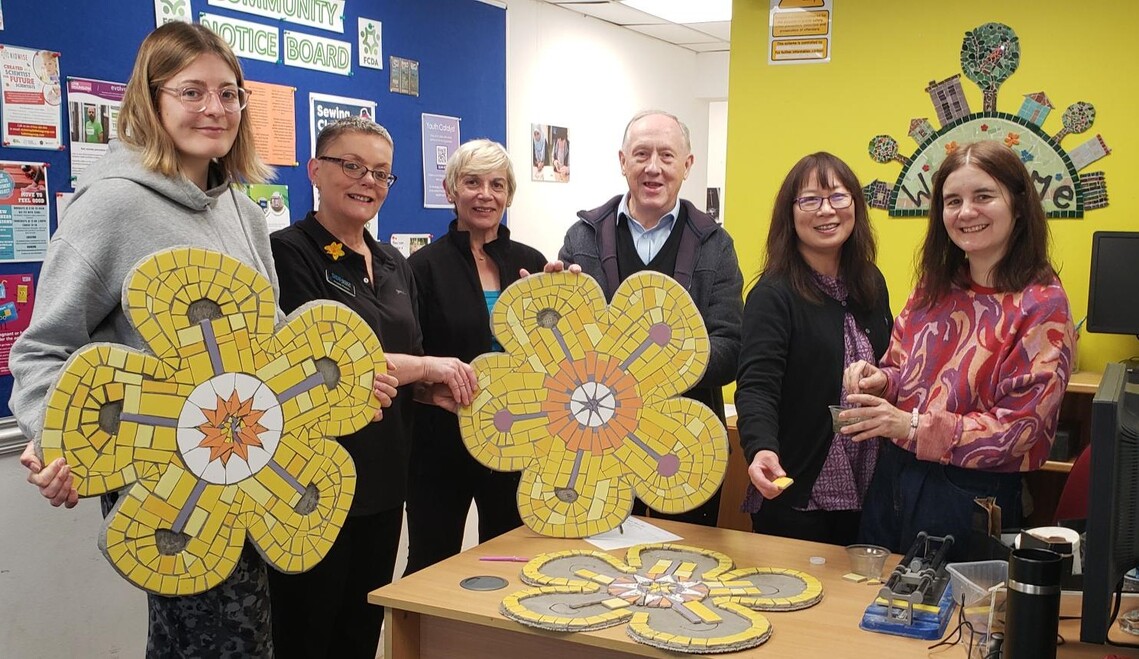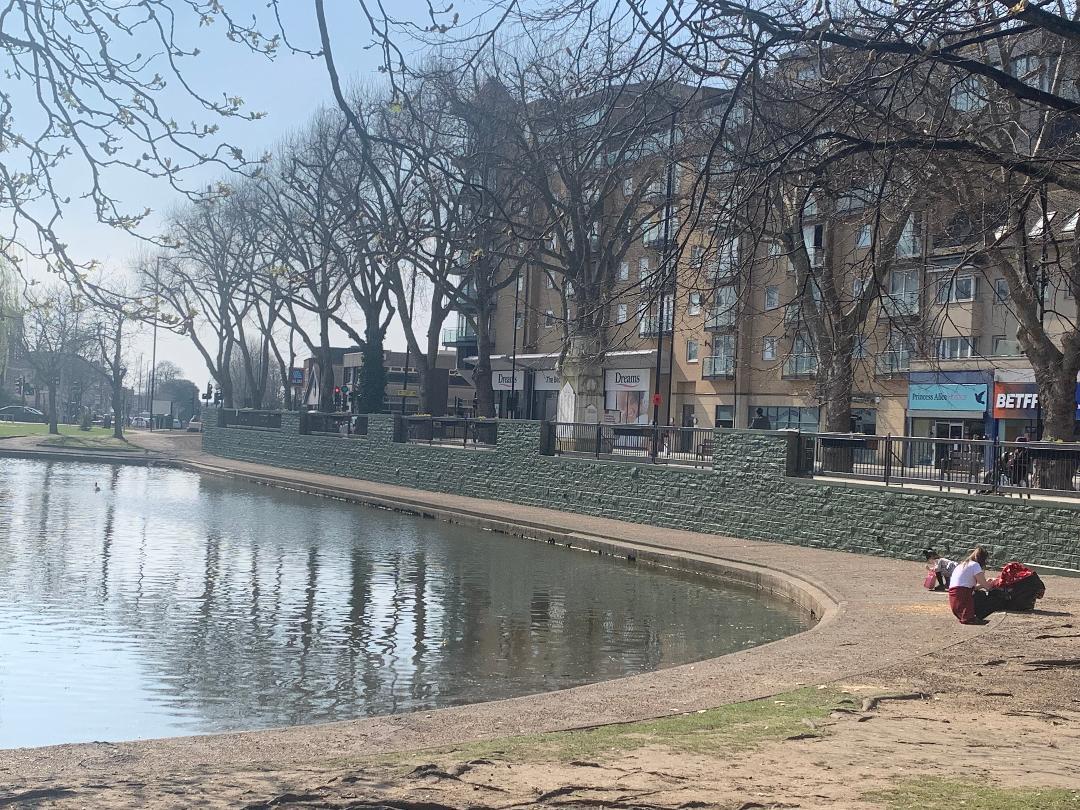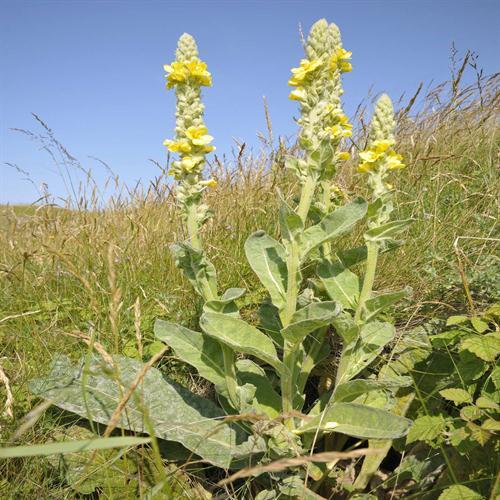 Visited FCDA (Feltham Community Development Association) at Belvedere House this week. Susie John, who runs the mosaic group workshop every Thursday, has been very busy finishing all of the 25 great mullein flowers, which will be installed on the retaining wall at Feltham Green. Feltham Arts, supported by Hounslow Council, was commissioned for the project and hope to have some of the flower heads installed during November by a local Feltham tradesman Paul A. Davies of
QPMS Ltd.
The great mullein flower is connected to how FELTHAM got its name and was voted by the local community through a public survey.
Photo left to right : Charlotte Skinner (Feltham Arts), Angela Parton & Ray Edwards (Friends of Feltham Green), Brigitte (mosaic workshop member) Joyce Ip (Hounslow Council) and Susie John (FCDA)
SEPTEMBER 2022
We are very excited to let you know that our proposed Cabin on Feltham Green has just received planning consent. The process was delayed whilst the design team worked out how to ensure the mature plane trees near the site will be protected during the construction process. Unfortunately, in the meantime, the cost of the Cabin has increased from the original budget, for which all the funding had been secured. We are working with Hounslow Council to secure the rest of the money so that we can start on site as soon as possible.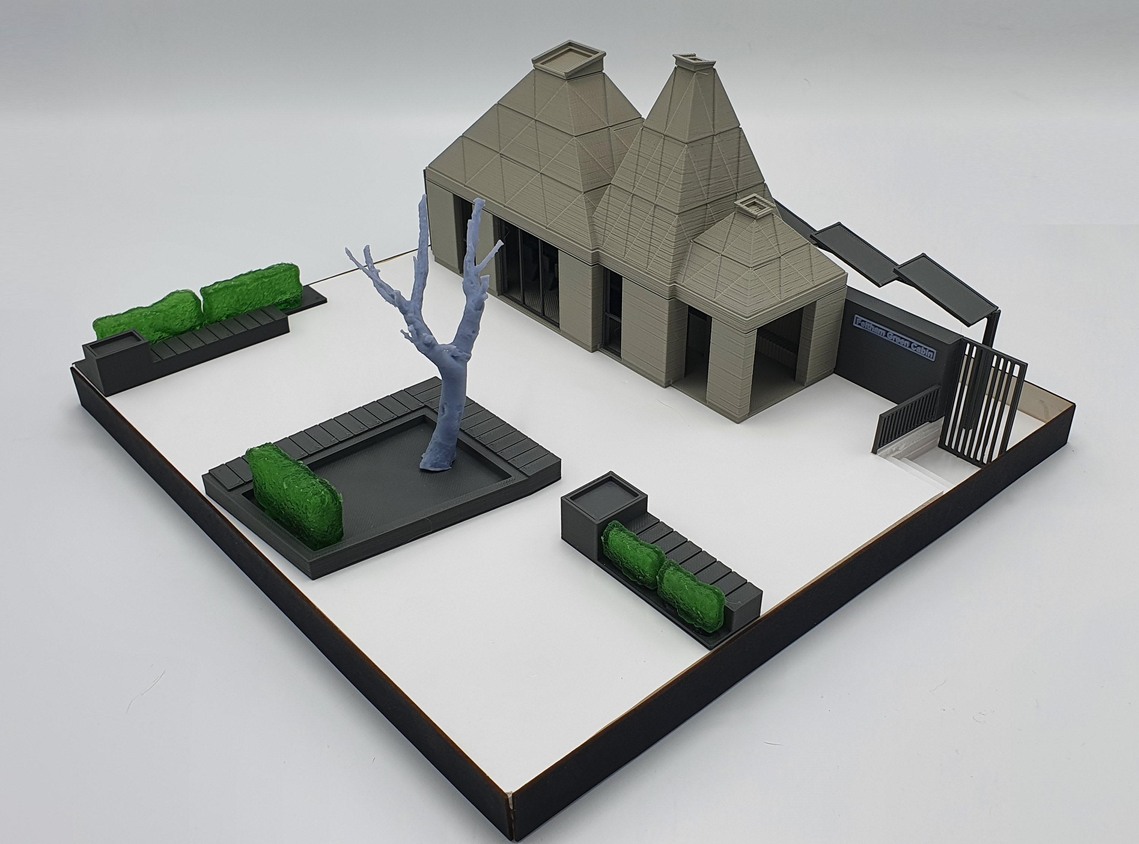 Next Gardening Days
Saturday 10th September between 10-1pm
Saturday 15th October (same time as above)
Sunday 6th November (same time as above)
London in Bloom Awards 2022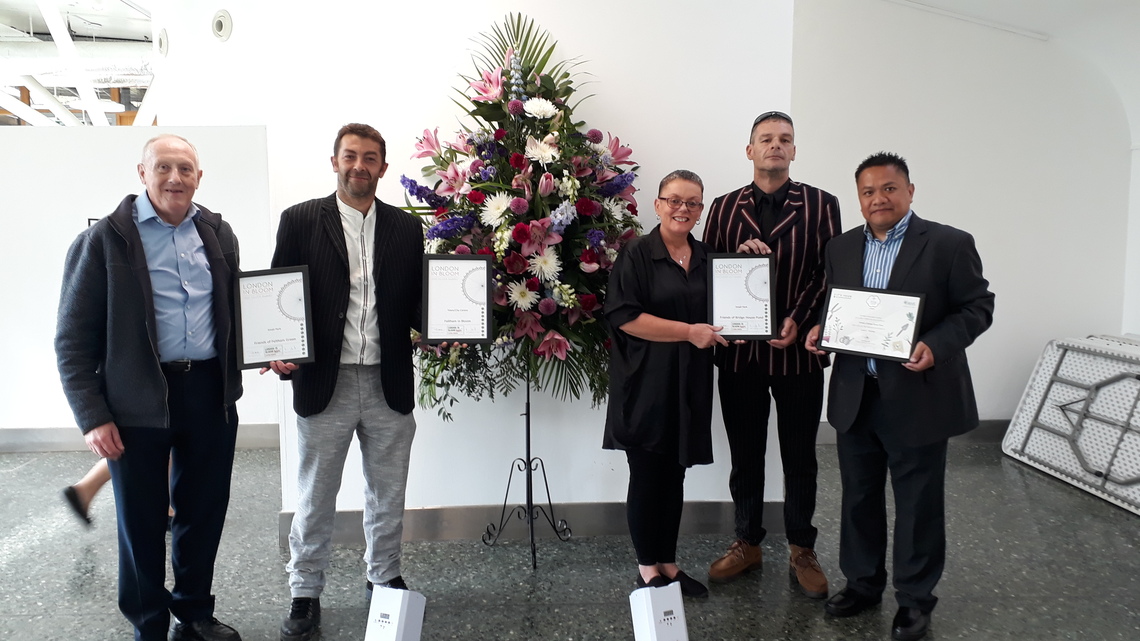 Very pleased to announce Friends of Feltham Green received a SILVER for the small parks category, also part of the Town/City centre with Friends of Bridge House Pond and Feltham in Bloom another SILVER.
JULY
DONT MISS - The Rock n Roll Bus at Feltham Green on Sunday 31st July from 12pm.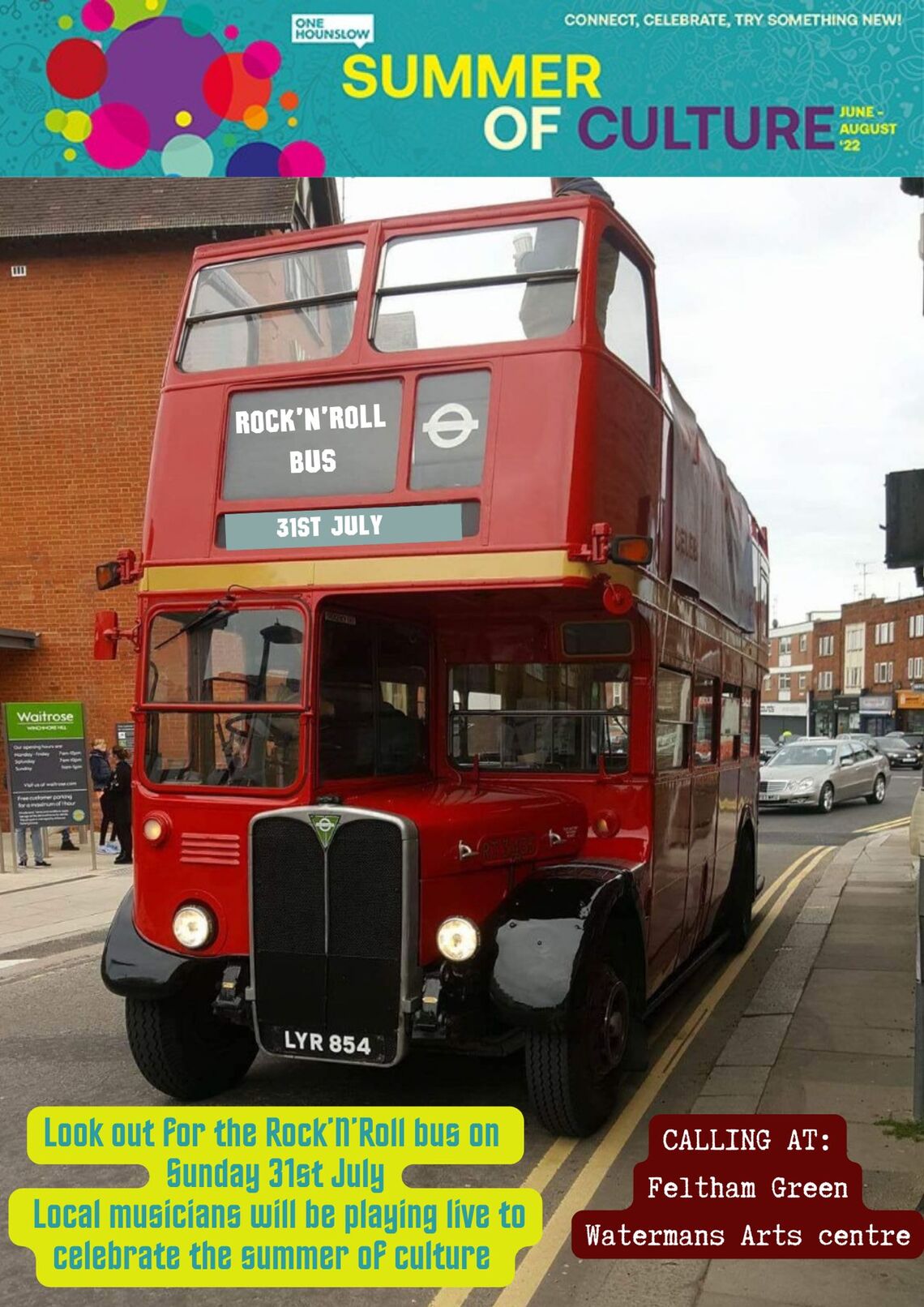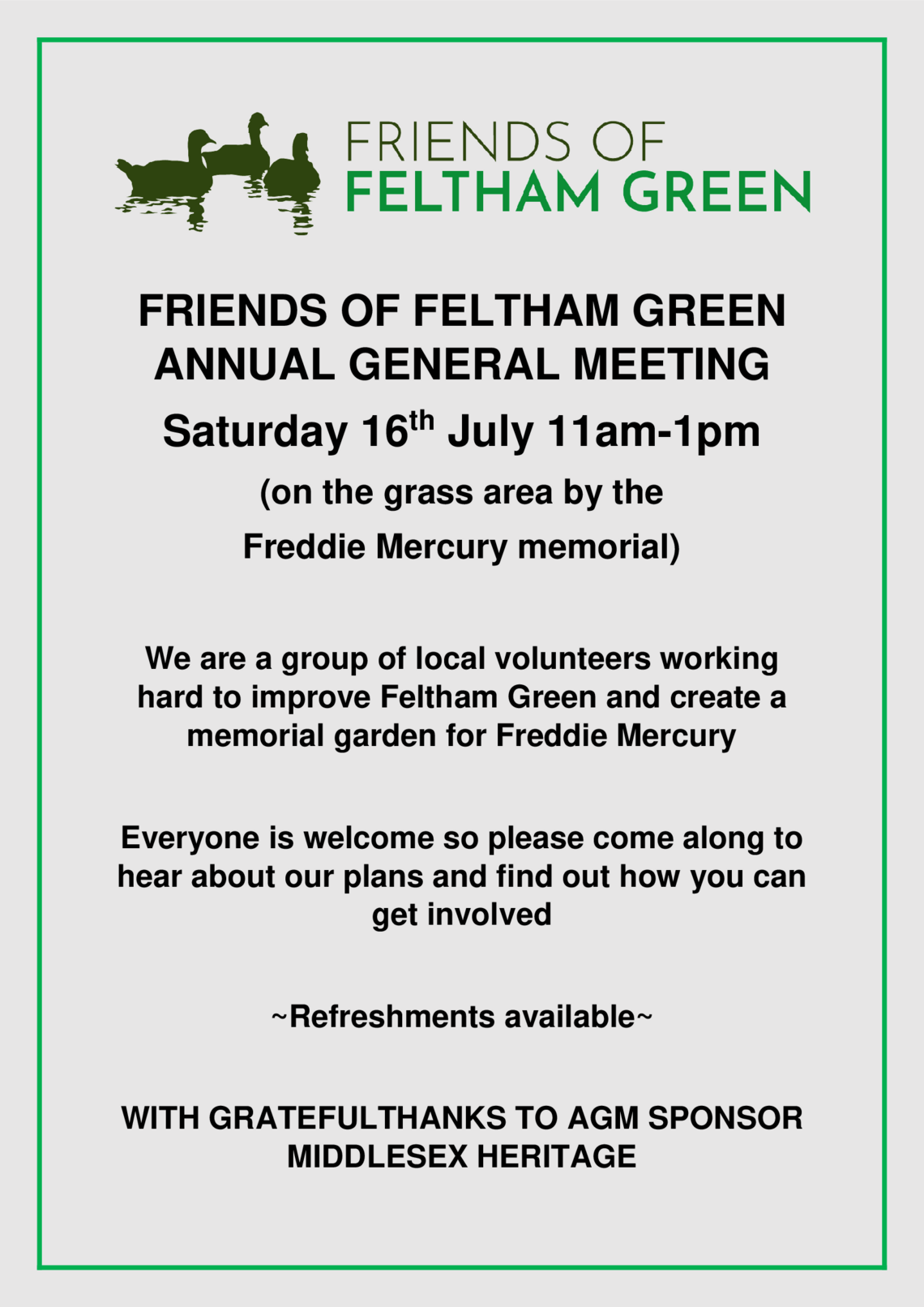 Next 'Gardening Days' will be the weekend of 2nd and 3rd July between 10-1pm. We will be doing last lot of preprations for London in Bloom judging. Please come and join us to support the group and helping maintain Feltham Green to be always 'The Jewel in Feltham's Crown'.
June 2022
Feltham Fete 'Homegrown'
On Saturday 25th June, Creative People and Places with support from local councillors, FLAG (Feltham Local Action Group) and Friends of Feltham Green. Organised this years very successful Feltham Fete, which the theme was 'Homegrown'. It was well attended by the Feltham community and the Mayor of Hounslow visited.
There was many fun activites, dancing, music, food and community group stalls, which was situated all around Feltham Green/Pond.
Thank you to Finley Neilens (Community Arts Worker) CPP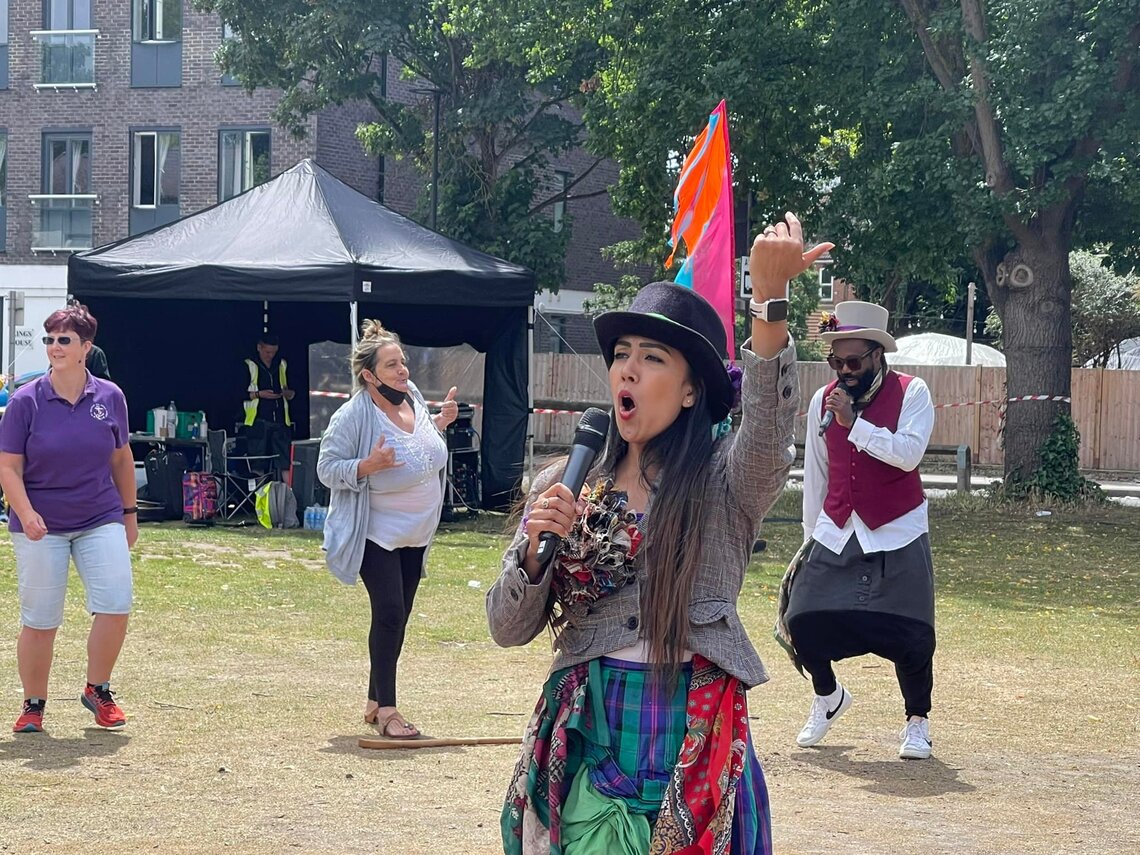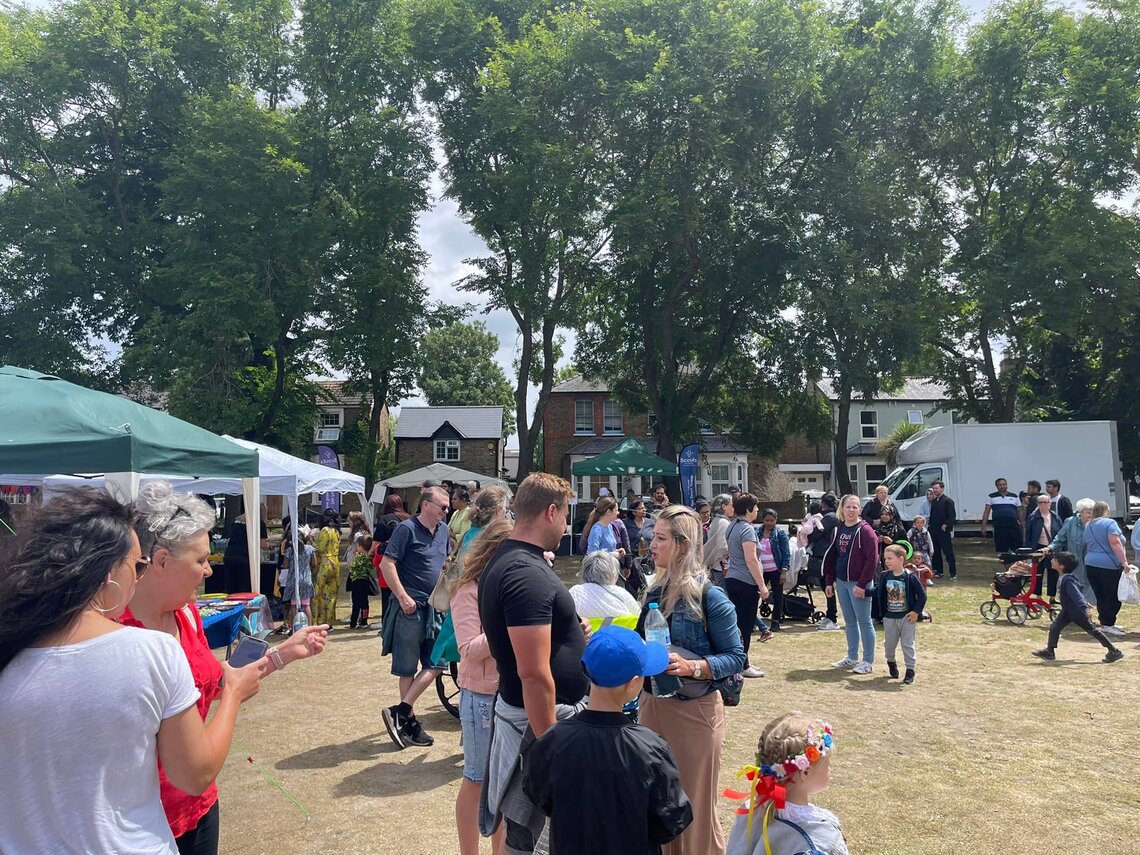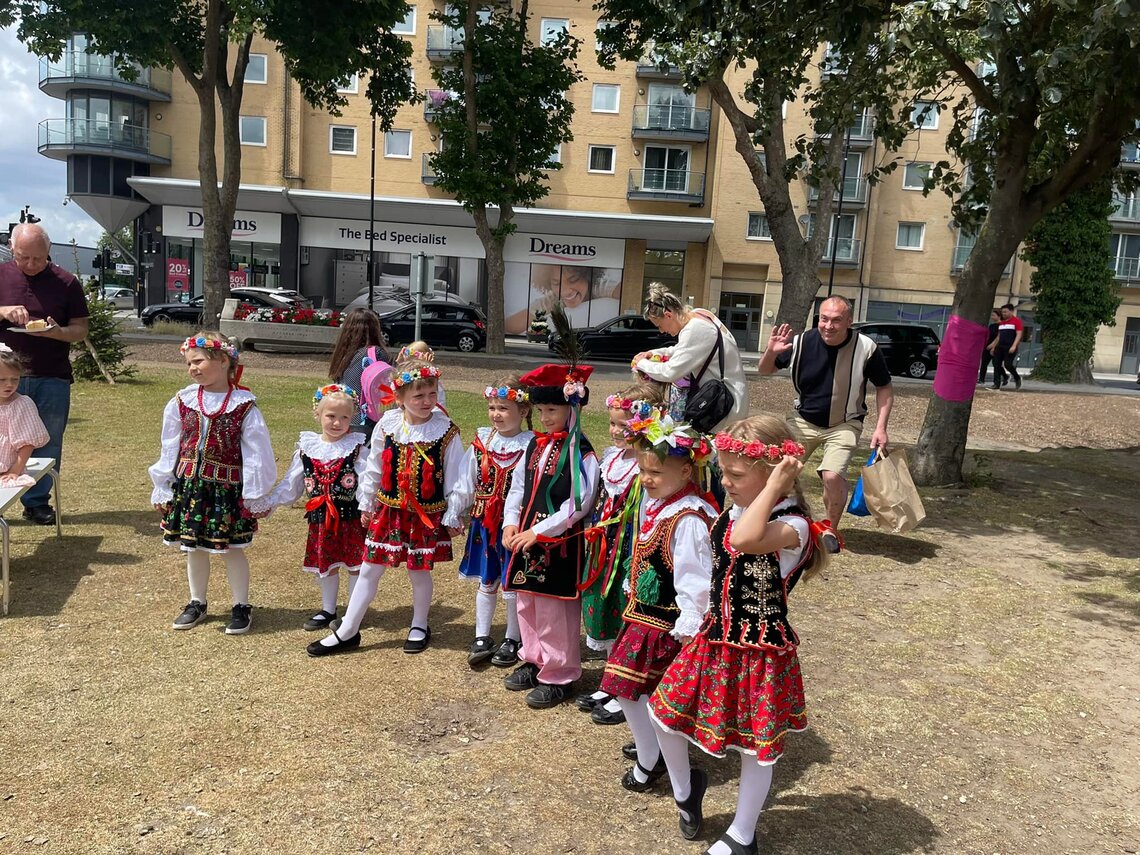 A fabulous start to this year's Freddie Mercury and Brian May Tours. Everyone really enjoyed the day visiting the three Feltham Historic ponds, World Zoroastrian Organisation, Brian May and Freddie Mercury houses. Next tour on Tuesday 7th June starting at 11am.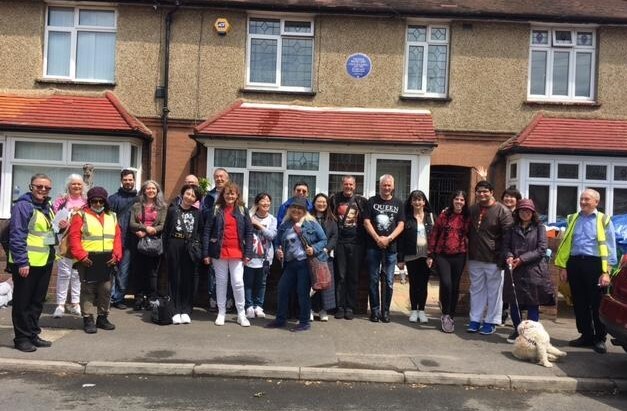 MAY / JUNE 2022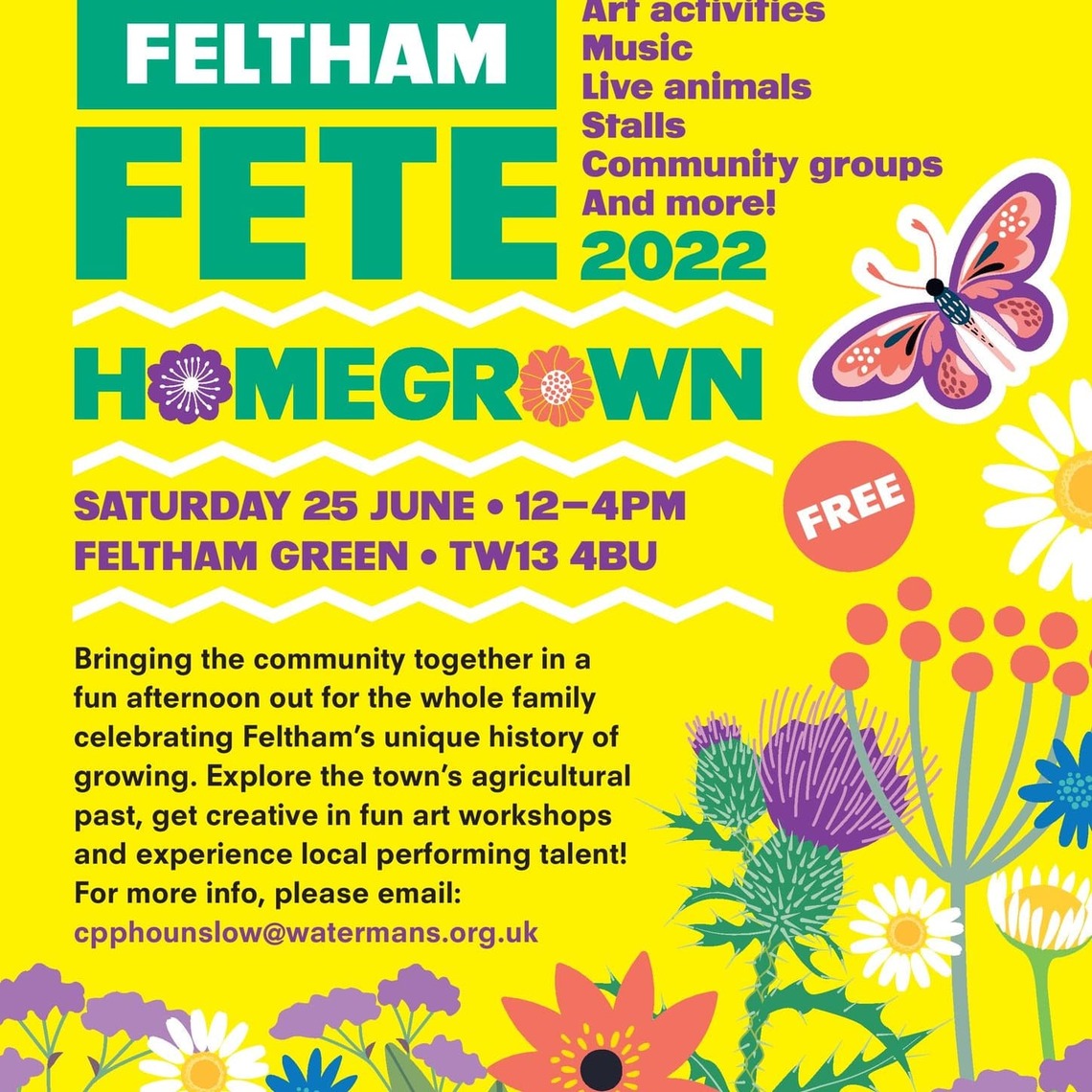 MAY/JUNE 2022
Next 'Gardening Day' will be on Saturday 14th May between 10 - 1pm, all are welcome. Children must be accompanied by an adult at all times. We will be putting in new planting at back of pond borders, clearing more the 'Great Mullein' and 'Queen Elizabeth II' borders, sweeping, clearing pond and litter picking as always.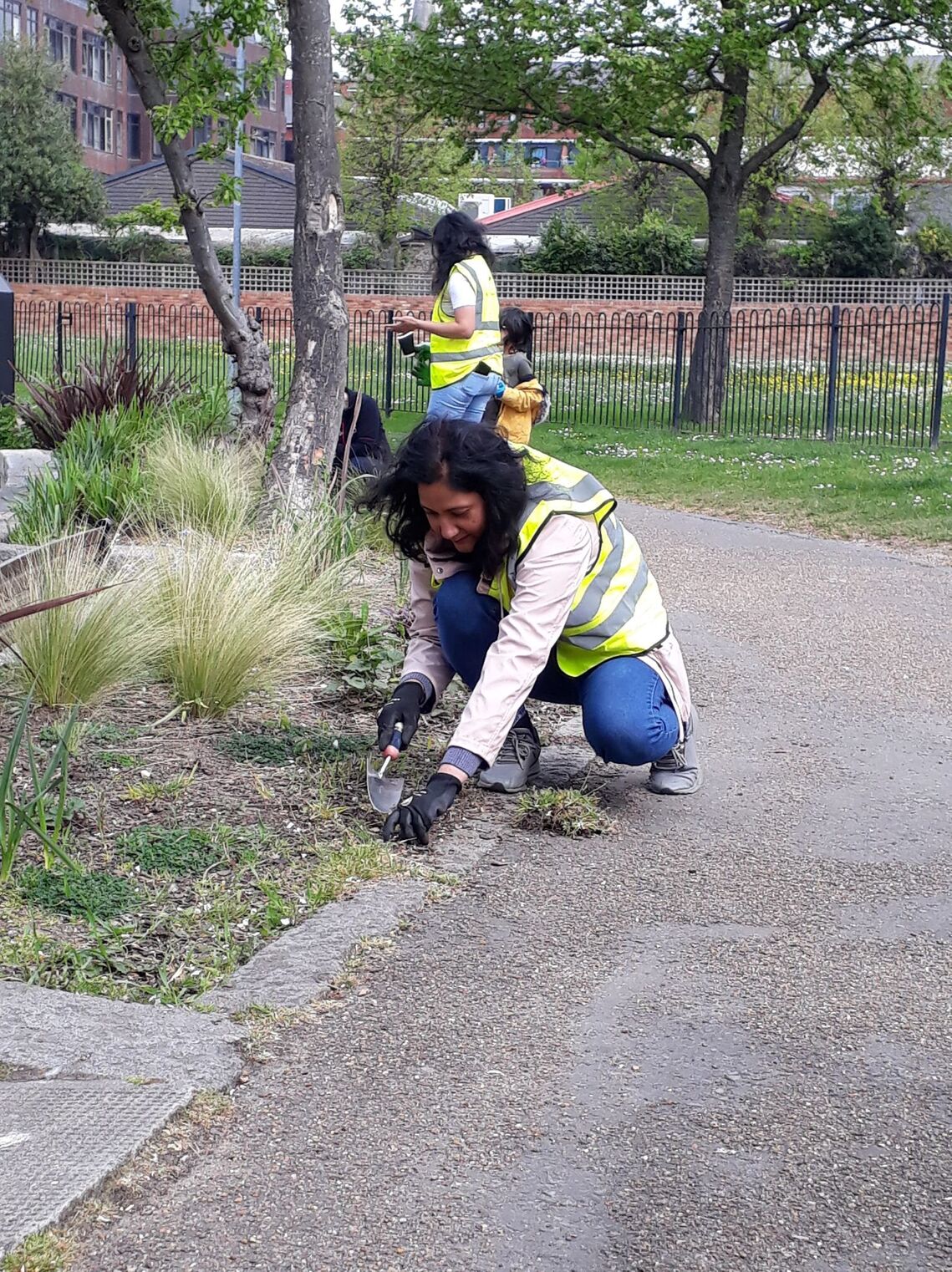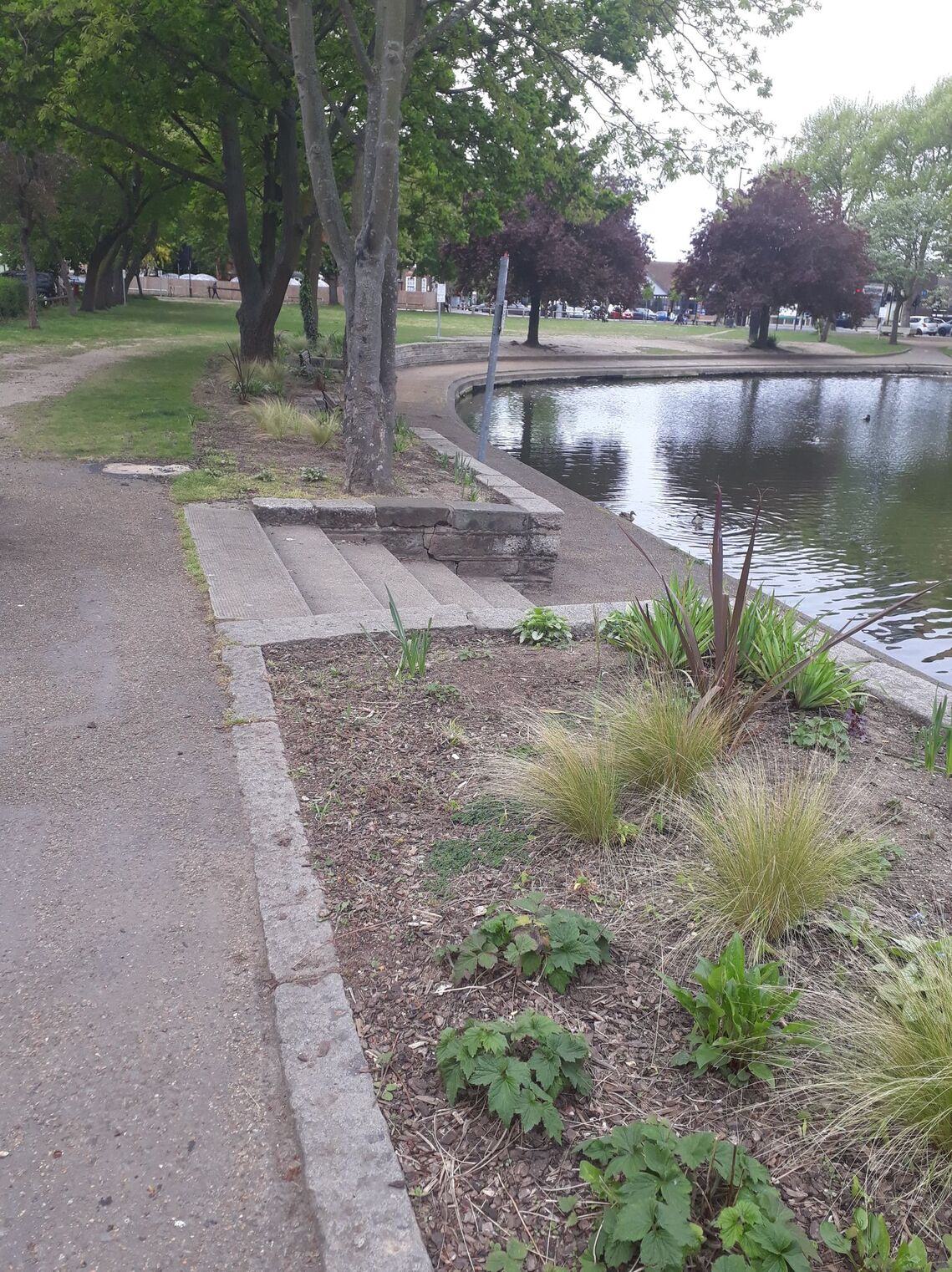 MAY / JUNE 2022
As part of the improvement masterplan for Feltham Green/Pond, an aerator needs to be installed in the pond. This will ensure oxygen levels are good all year round, which will reduce algae. In addition, floating reed beds will be installed to act as a natural filteration/oxygenator and provide habitats for insects like dragonflies. They will also help to reduce the evaporation of the water, which is necessary because Feltham pond doesn't have any shade from the sun, apart from that provided by the willow trees on the island. WATCH THIS SPACE - VERY EXCITING!
MAY / JUNE 2022
Schedule for both tours :-
11.00am - Introductions/health and safety points
11.10am - FoFG and history of Feltham Pond
11.30am - Freddie Mercury Memorial
11.40am - History of Bridge House Pond / World Zoroastrian Organisation (Bulsara family religion)
12.20pm - History of Clymping Dene Pond
12.40pm - Brian May's house
1.00pm - Freddie Mercury's house (Meet the present owner and opportunity to purchase Freddie Mercury fridge magnets and postcards)
1.30pm - End of tour
APRIL 2022
Wow, Wow and Wow what a turn out at Feltham Green Easter Egg Hunt. Thank you to all the parents and wonderful children who participated. Everyone loved meeting the Easter Bunny who hopped over to Feltham for a visit and taking part in the egg and spoon race. A special thank you to all the volunteers and committee members for making it a special day for everyone.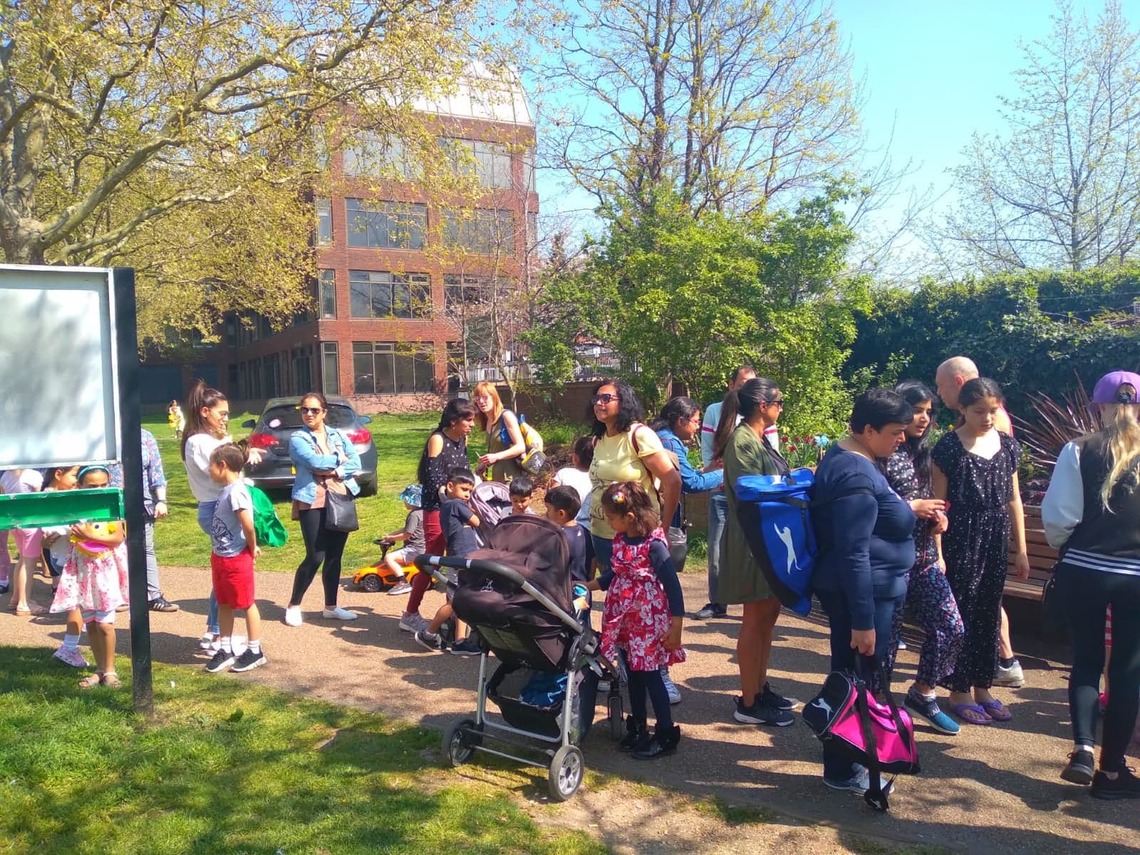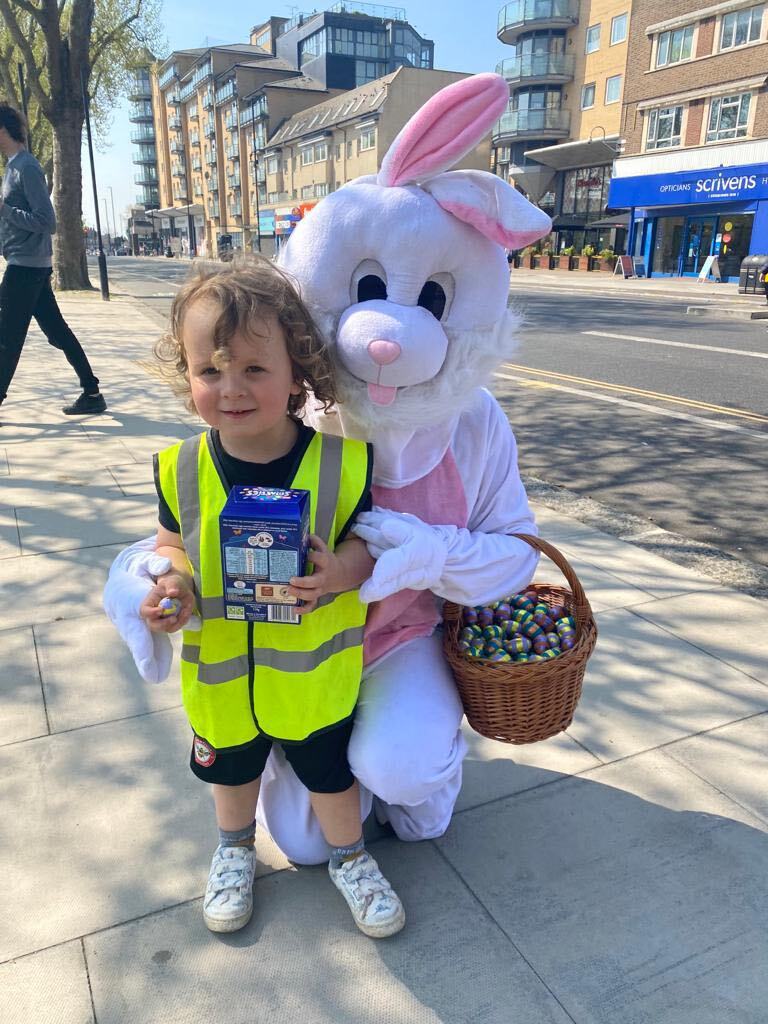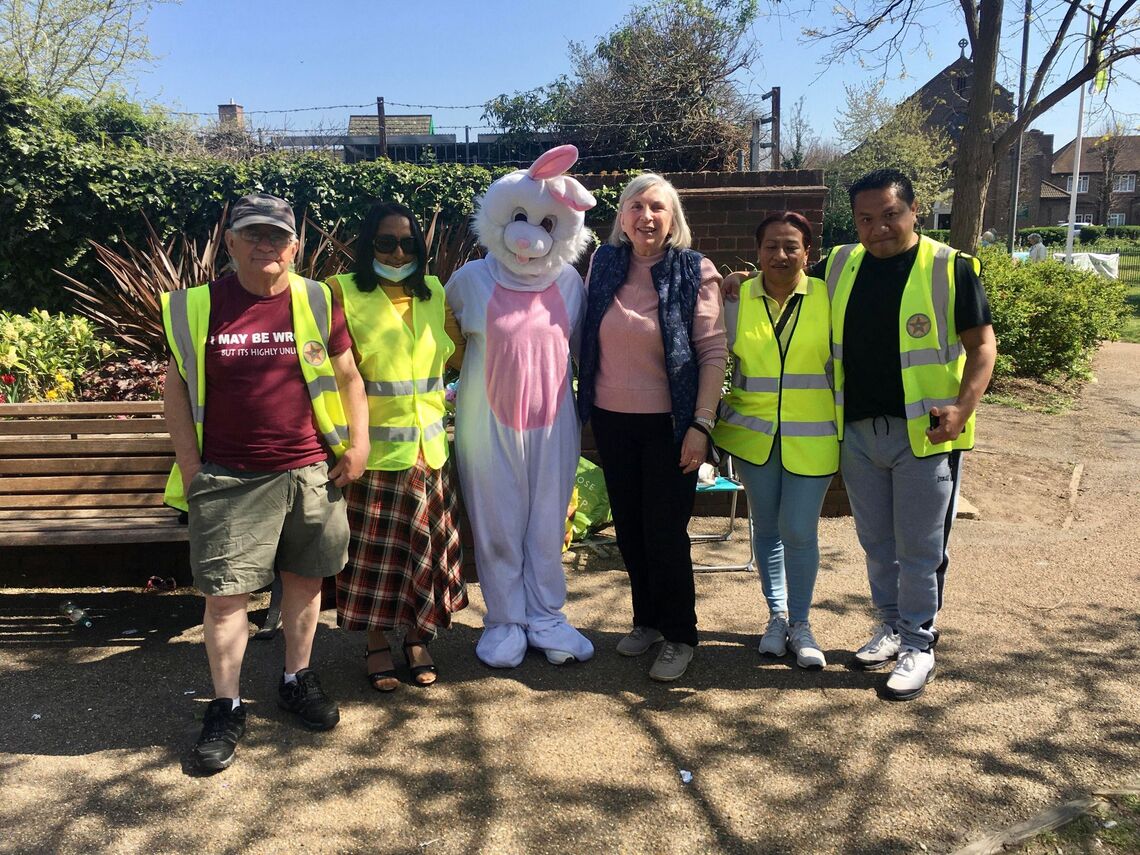 Easter Egg Hunt event, all are welcome.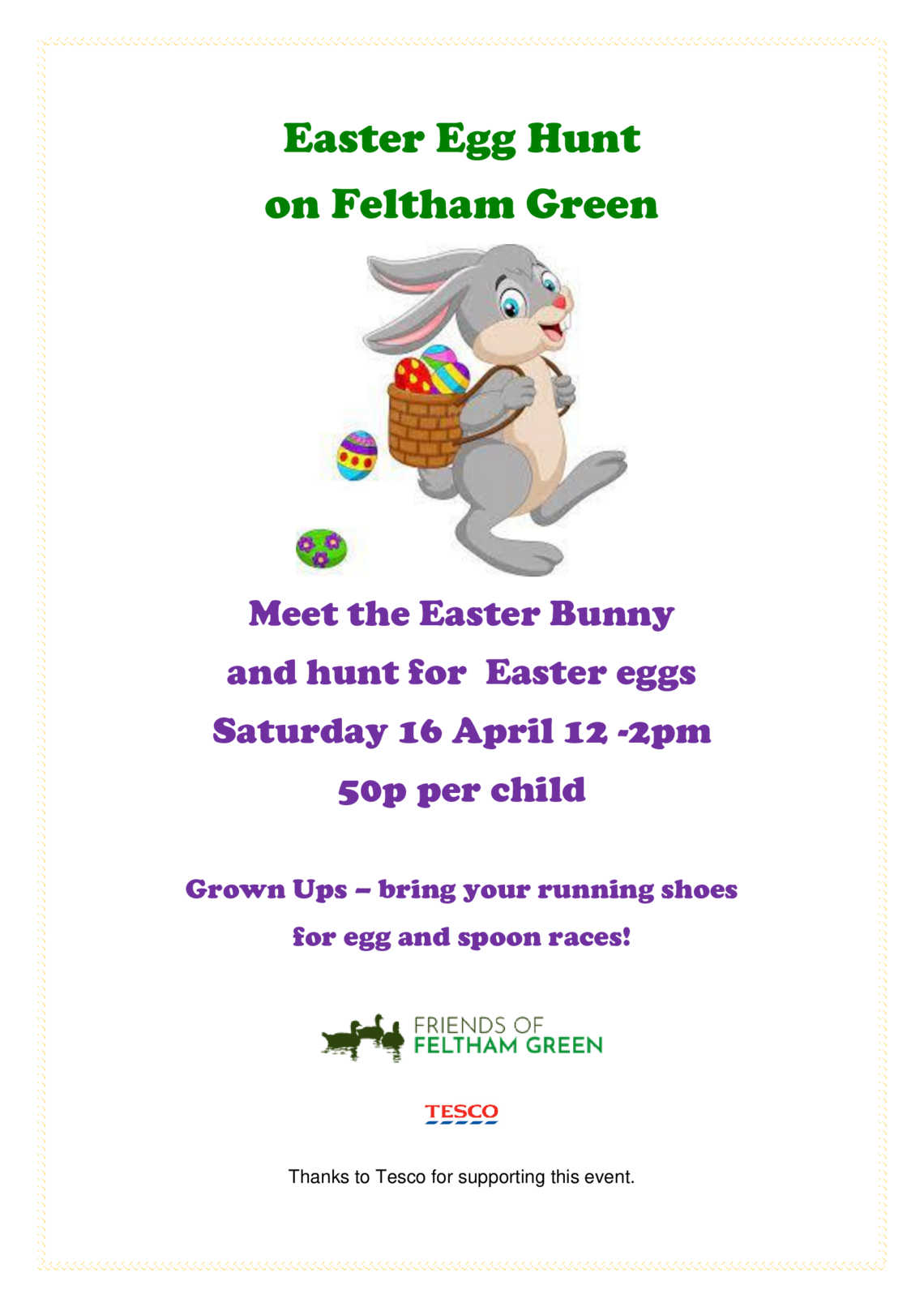 'GARDENING DAY' - We have had three gardening days so far which started in February. Next one will be on Saturday 23rd April at 10-1pm. All children must be accompanied at all times by an adult.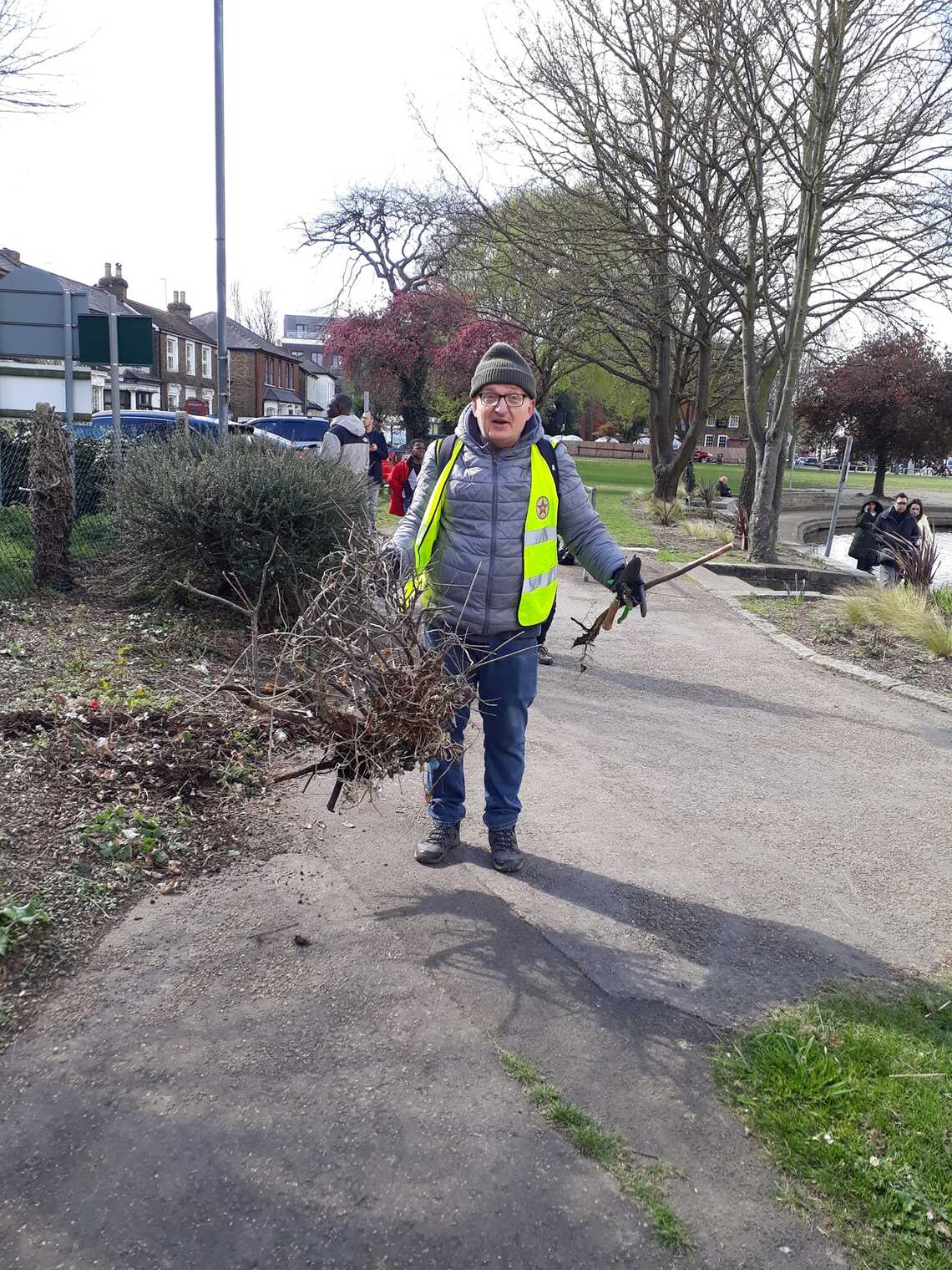 March 2022
The Friends group always likes to support or use local businesses. Many thanks to Joe Hoardly of Holmes Painter and Decorators, Feltham based business for repainting the wall. The mosaic of the 'Great Mullein' flower represents a possible origin for the name of Feltham. This theme was voted for by the public/community through the Hounsow Council/Feltham Arts survey. The mosaic will be mounted on the wall and will be designed by Susie John of Feltham Arts/FCDA. (SO WATCH THIS SPACE)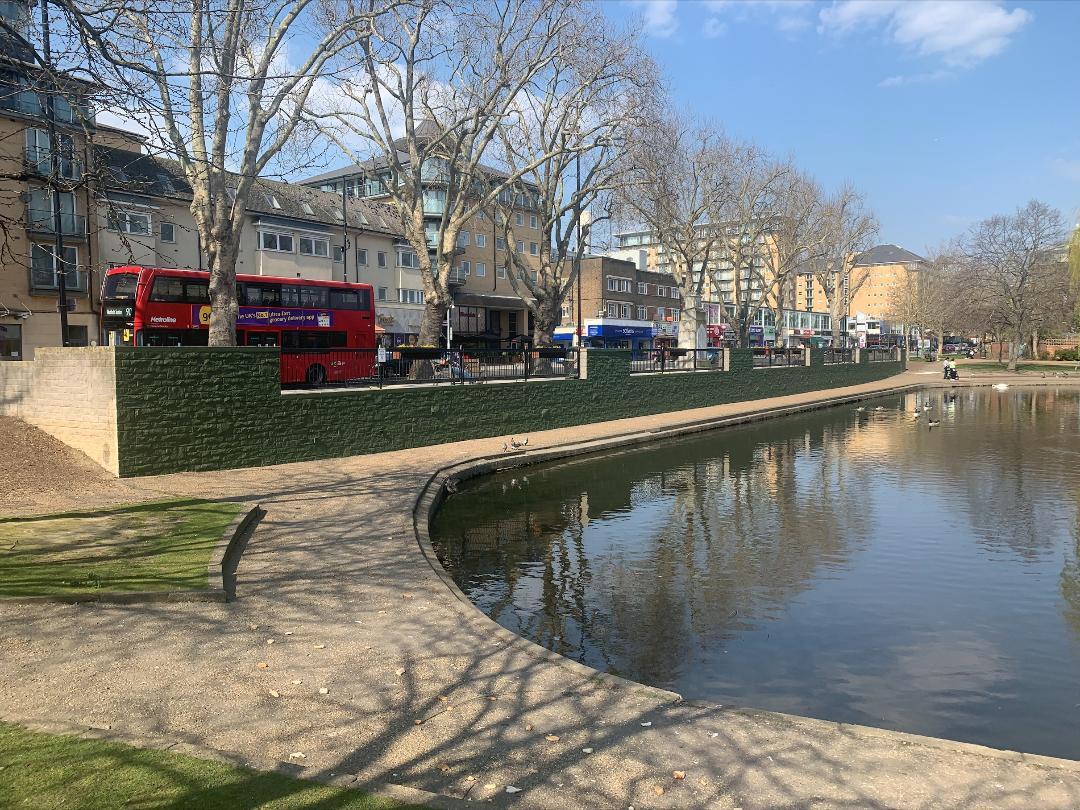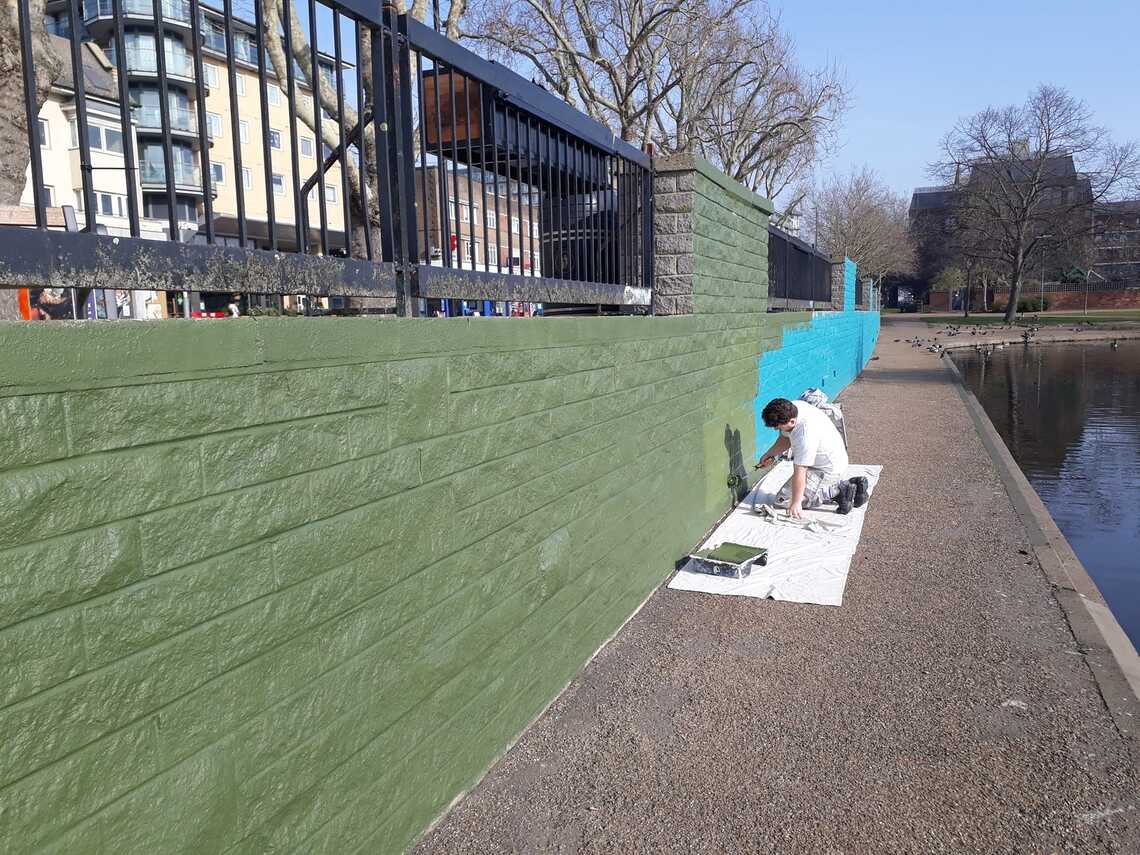 February 2022

WE ARE RECRUITING NEW COMMITTEE MEMBERS!
This year will see some exciting developments on Feltham Green, including creating a memorial garden to honour Freddie Mercury and a new eco cabin for community use. We need to strengthen our committee to help ensure the Green continues to be a much-loved open space for the enjoyment of everyone who lives and works in Feltham. Please contact our Chair, Angela Parton, to find out more: felthamgreen@outlook.com
November 24th 2021
On this day 30 years ago Freddie Mercury, Feltham's famous resident passed away. The loss of such a great Singer of Songs and Lover of Life echoed around the world.
The love and passion for him hasn't wavered; if anything its even stronger and we aim to help keep his memory alive.
The Friends of Feltham Green in partnership with The World Zoroastrian Organisation (the Bulsara family religion) will be marking the occasion with floral tributes and donations to the Mercury Phoenix Trust, which was set up by the band members to raise money to fight AIDS world wide.
Hopefully the Freddie Mercury Memorial Garden at Feltham will be created next year, to be a place for residents and visitors to enjoy and to remember Freddie.
Thank you.
Photos sourced from English Heritage and FHB Appreciation Society Facebook page.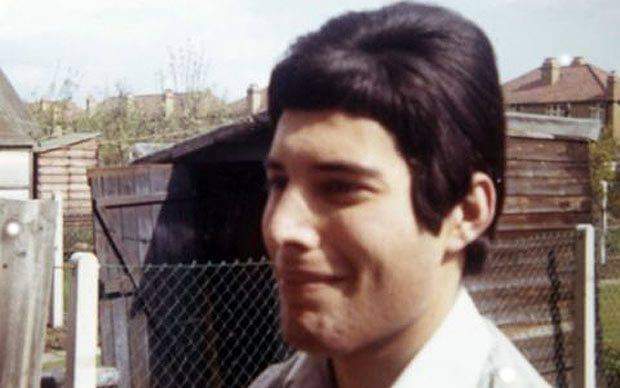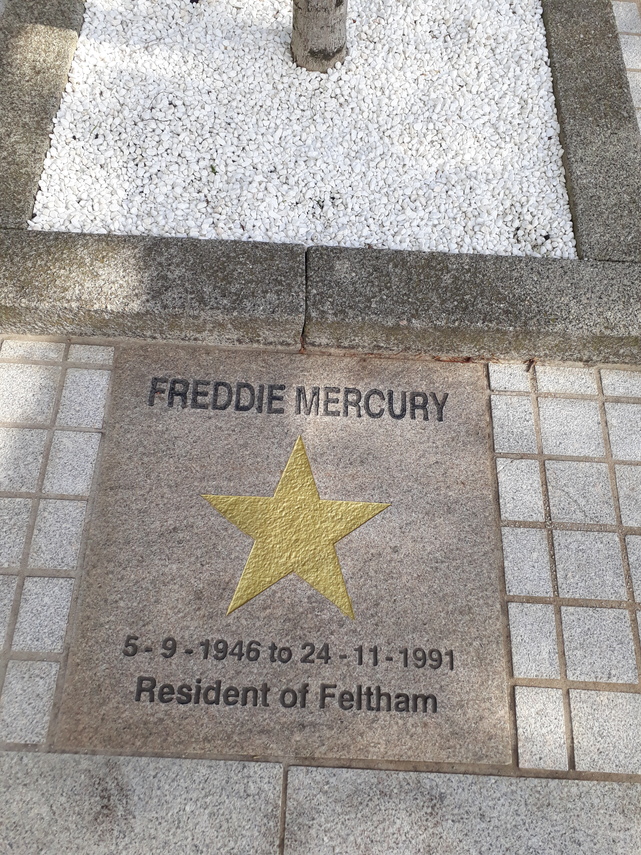 October 2021
'Flourishing Feltham Green' Campaign update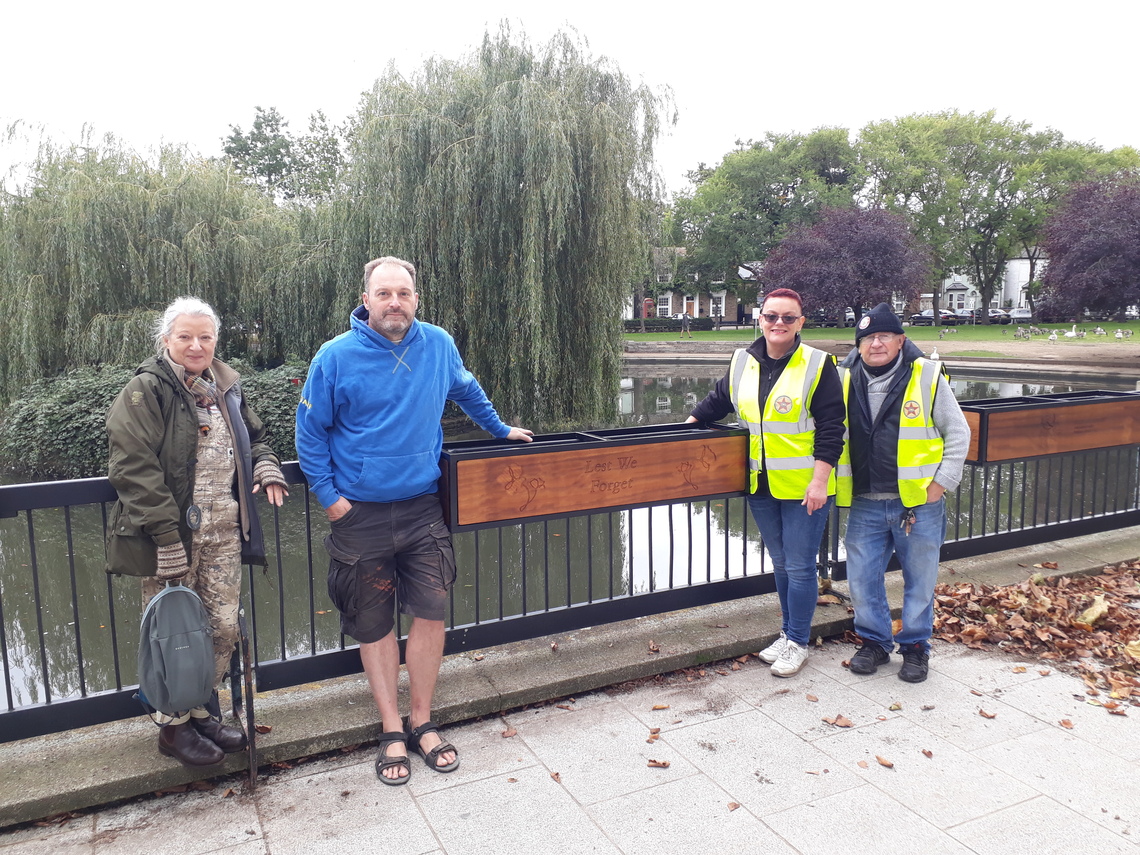 Left to right (Nadia Stern/Vice-Chair, Paul Gibbons/Hounslow Men's Shed, Angela Parton/Chair, George Cover/Garden Expert FoFG)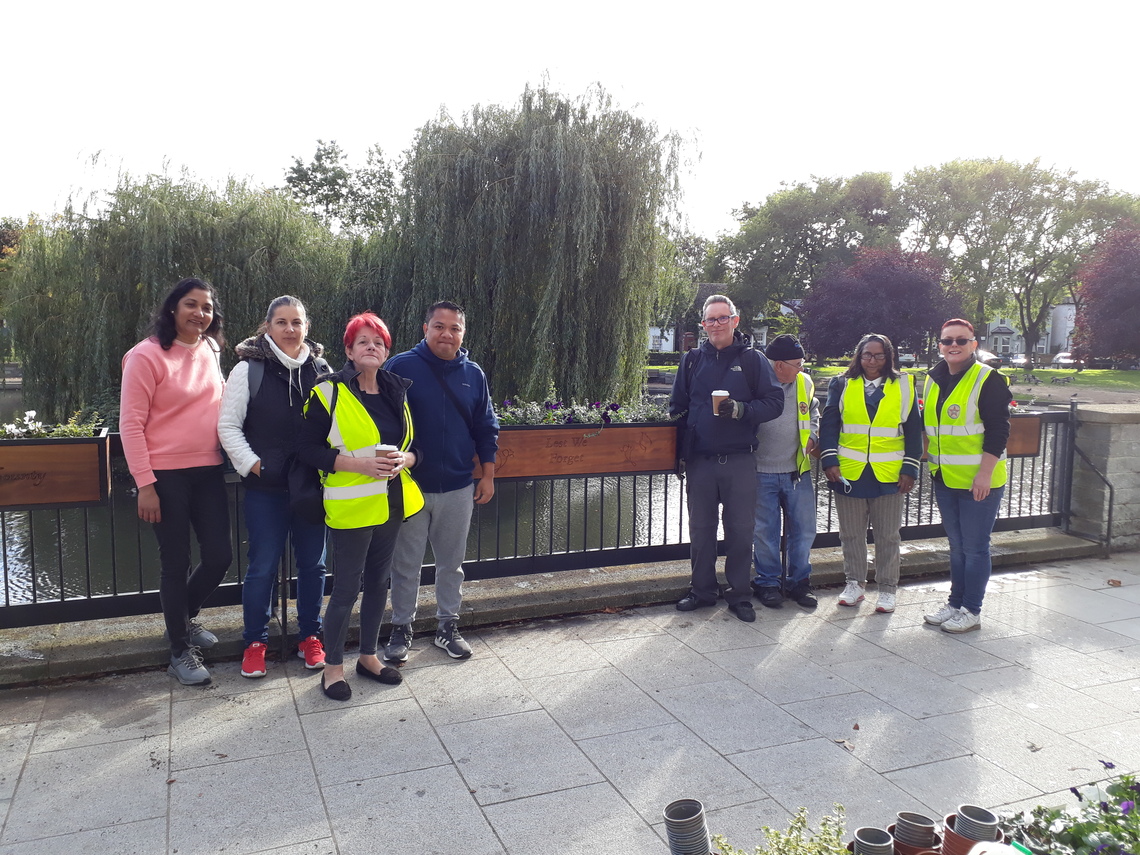 Pictured (above and below) some of the many volunteers that turned up to plant all 9 planters.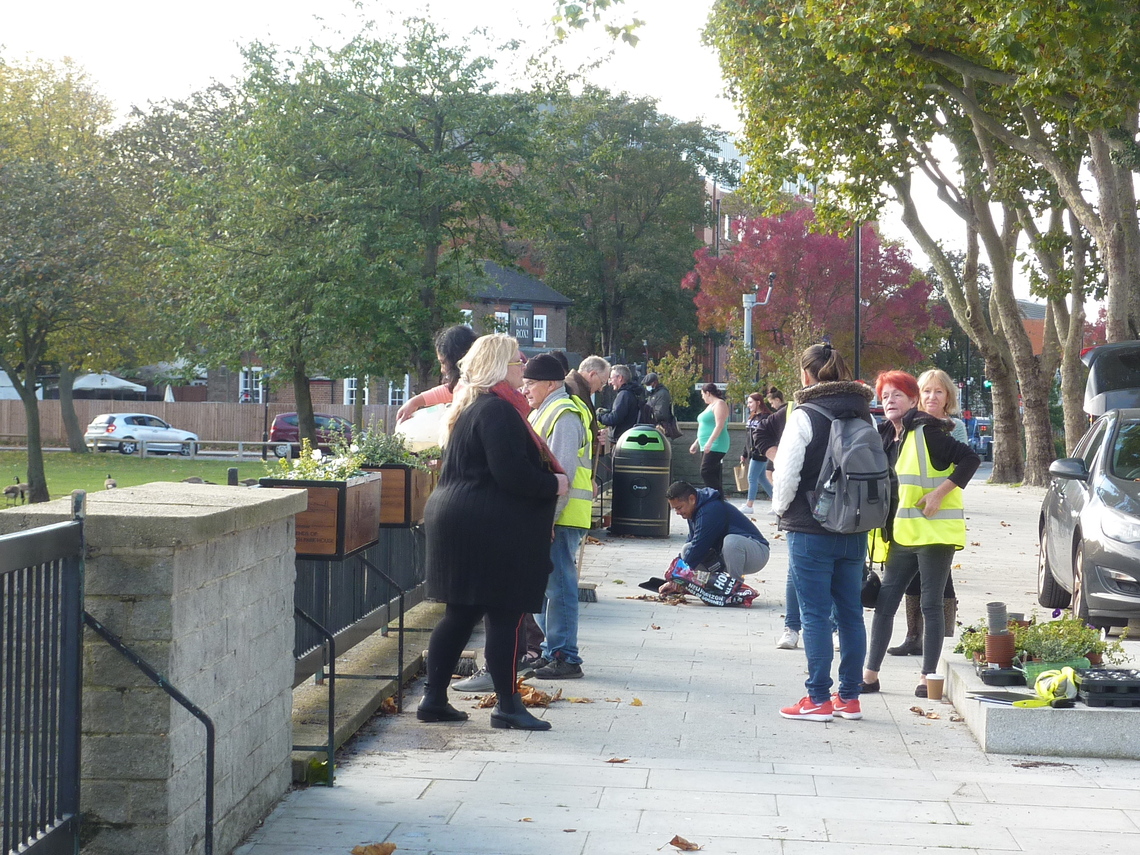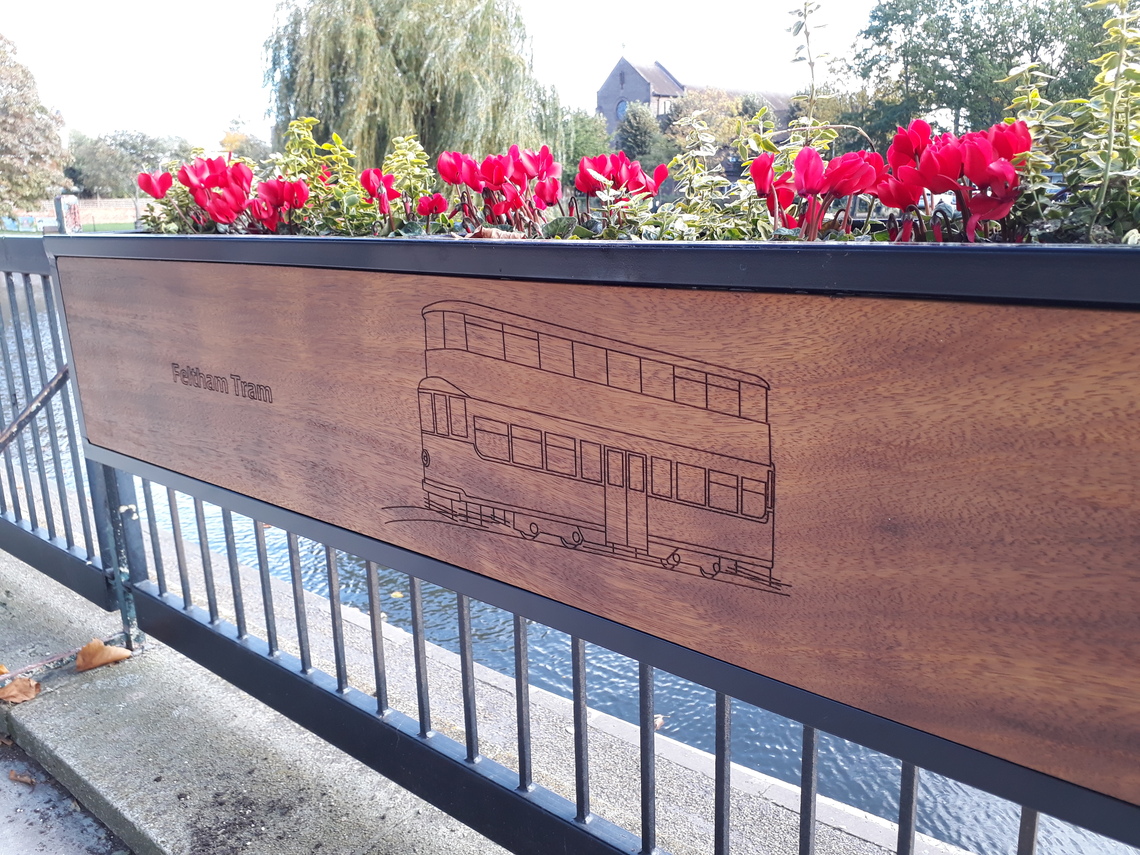 Many thanks to everyone who supported the Friends of Feltham Green's 'Make London' crowdfunding campaign 'Flourishing Feltham Green' in 2021 to install specially designed wooden planters on the railings opposite the War Memorial that border Feltham High Street.
They were designed and constructed by our project partner Hounslow Men's Shed and carved with designs that reflect Feltham's past and present. The themes for the carvings were suggested by Feltham residents and others and chosen by a small committee which consisted of members of Feltham History Group (Alan Rice & Roger Cowing), local mosaic artist (Susie John), Chair of Hounslow Men's Shed (Paul Gibbons) and Chair of Friends of Feltham Green (Angela Parton).
The carvings were designed by local artist, Nadine Fletcher; Kiera Brown, a student from the Logic Studio School; and Paul Gibbinson, Chair of Hounslow Men's Shed.
Also wish to say many thanks to Adrian Hall, our local garden centre for supplying the plants and to the many Feltham residents who helped to plant up all nine planters in time for them to be part of Remembrance Day Sunday: Angela Parton, Nadia Stern, George Cover, Angela Wilson, Ran Maliyadde, Ray Edwards, Kathy Allum, Juan Flores, Irinia Stancus, Mary, Scott Davidson, Liz Mullins, Katyu Piuchera, Giuliu Augelor, Deborah McGonigle and Roy Fairs.
The planters will give great pleasure to the community of Feltham and visitors for many years to come.
Wish to thank the following people who helped to acheive this wonderful thing for Feltham.
PRINCIPLE DONOR

Mayor of London

PLANTER SPONSORS

Gary Cottle (Hanworth Park House)

Lodge Brothers

DONATIONS FROM LOCAL COMPANIES

About Signs (in kind donation)

KTM ROX!

Noyces Funfairs

Organic Delivery Company

DONATIONS FROM INDIVIDUALS

Jane

Andrews

Jac

Bond

Val

Bott

Michael

Bowron

Rosemary

Brett

Joanne

Bryenton

Cameron

Burt

John

Calvert

Sara

Cass

Kevin

Castle

Kamil

Chodnicki

Richard

Clarke

Gary

Cottle

George

Cover

Katy

Cox

Lynn

Dalgeish

Julie

Davies

Laura

Dobson

Sue

Driscoll

Kumi

Earnshaw

Louise

Ely

Senja

Fitzgerald

Joan

Fullicks

Sharon

Flynn

Jane

Fredjohn

Richard

Griffiths

David

Harris

Catherine

Head

Tina

Hopping

Deborah

Hutcheson

Carol

Ivory

Theresa

James

Susie

John

Satoko

Kijima

Guy

Lambert

Paul

Lerner

Binitu

Limbu

Michelle

Luhr

Anna

Martin

Kirsten

McBride

Sonia

Mclaughlin

Pat

Mcrae-Adams

David

Meades

Liam

Moore

Daniel

Murphy

Anne

Nicholas

Jim

Noyce

Geeta

Pandit

Yasmin

Parnham

Angela

Parton

Alex

Pearce

Sue

Perry

Barbara

Plaice

Sarah

Pretty

B

Pun

Steve

Rac

Savio

Rodrigues

Emiko

Sato

Zuzana

von Schlippe

Brian

Slade

Jean

Smith

David

Stern

Candy

Stern

Nadia

Stern

Offer

Stern-Weiner

Ian

Stewart

Mariana

Sutherland

Riko

Tateiwa

Ed

Vainker

John

Young

and all those who wish to remain anonymous
11TH SEPTEMBER 2021
OPEN HOUSE EVENT
Friends of Feltham Green is hosting an 'Open House/Open City' event at Feltham Green on SATURDAY 11TH SEPTEMBER. This will include two walks showing the history of Feltham Pond and Freddie Mercury's connections to Feltham.
11.30pm / 1pm - Feltham Pond History and Freddie Mercury Memorial
Bridge House Pond/World Zoroastrian Organisation History and 'Freddie Mercury Close'
Clymping Dene Pond History and Freddie Mercury / Brian May House
2pm - 3.30pm Same as above
After each walk we will return to Feltham Green for light refreshments or directed to local restaurants/cafe. There will also be an oppertunity to chat to the Feltham History Group and a get an update of all the future plans and improvments of Feltham Green by Friends of Fetham Green.
OPEN HOUSE EVENT AT FELTHAM GREEN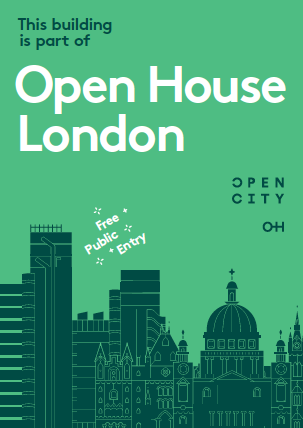 24TH JULY 2021
Friends of Feltham Green will be taking part in PondFest at Bridge House Pond on 24th July between 11-3pm. A special event to bring local community groups together and activies to make it a fun day for all ages to enjoy. Plus also an opperunity for groups to explain all the exciting plans they have been working on through Covid-19 pandemic.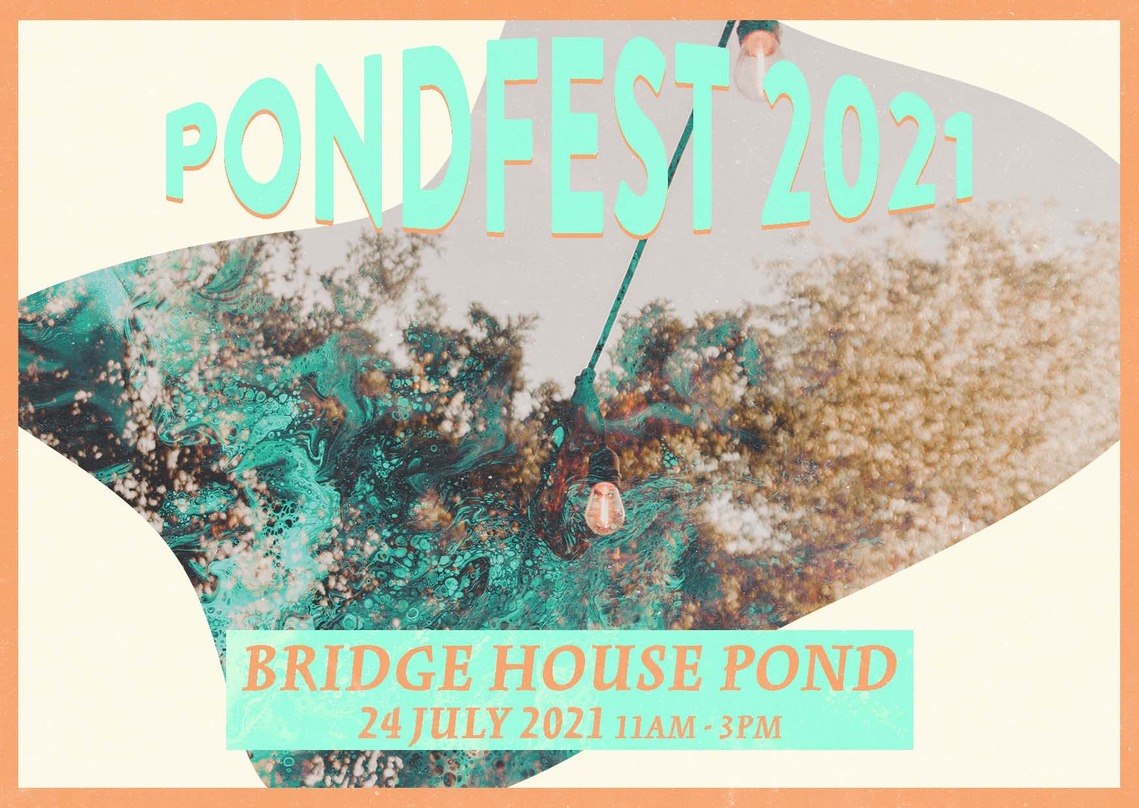 Feltham Arts has been commissioned to design panels of mosaics along the retaining wall at Feltham Green. Be involved in the decision making of what will be the theme on the wall. Click on link. All entries must be in by 18th August. Thank you.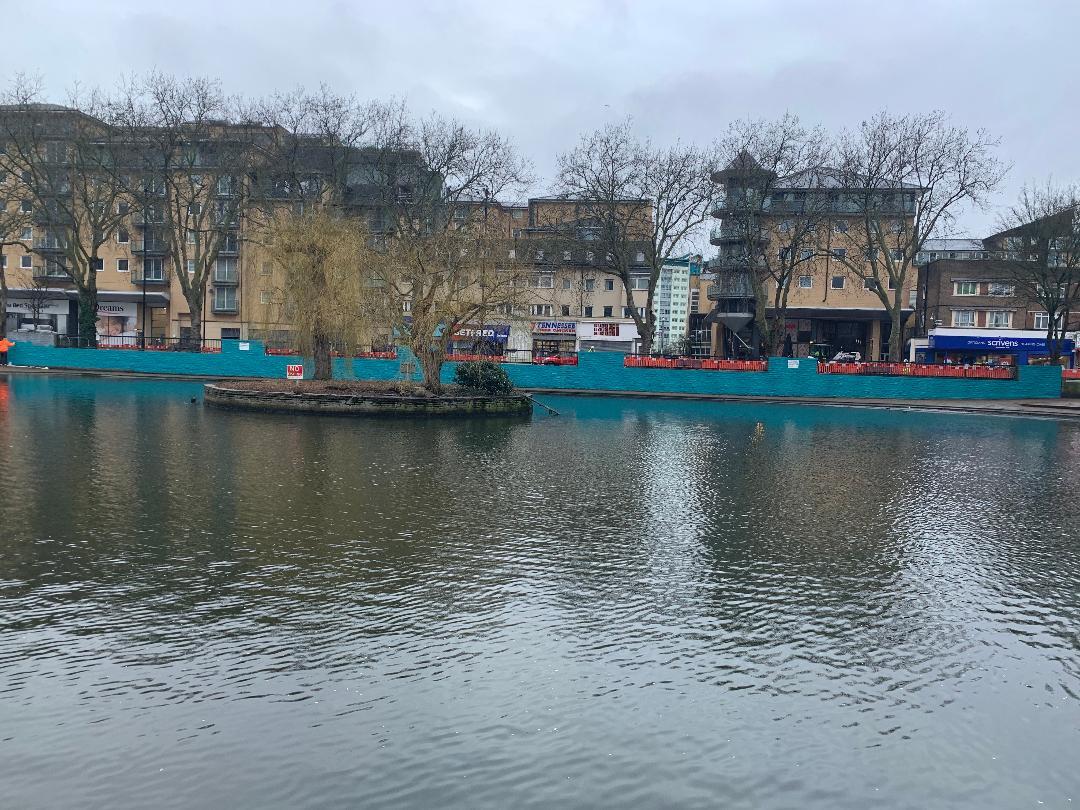 JULY 2021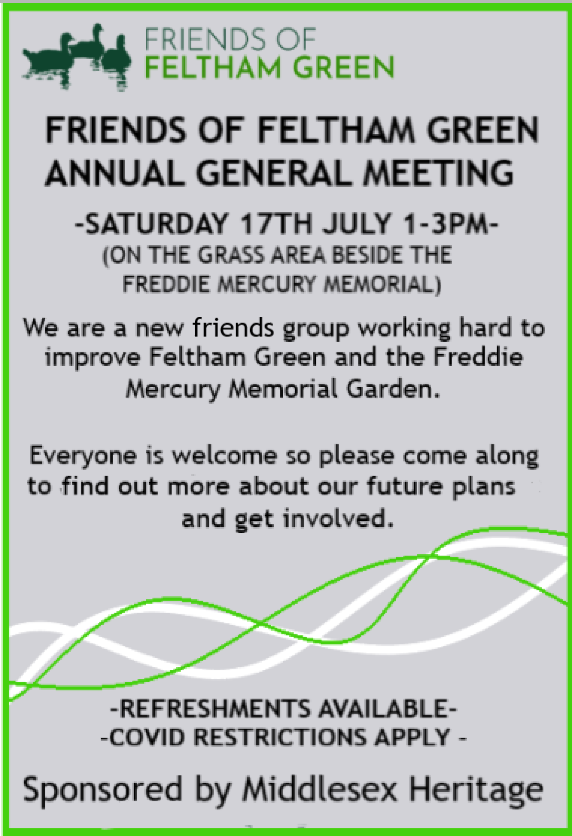 MAY 2021
New oak planters update
We have been busy gathering ideas for what to carve on our new oak planters and would like to thank everyone who sent suggestions to us. We received loads of great ones and our selection panel has chosen the following themes and ideas for the front of the planters. We are now working with local students to create the designs. In the meantime, Hounslow Men's Shed is busy making a prototype planter, to make sure it will fit securely onto the railings and is the appropriate size.
CRESTS/COATS OF ARMS: Feltham MoD; Middlesex County; Sir Admiral Keyes
THEME: Remembrance Day e.g. poppies; WW1 soldier/s
THEME: Transport e.g. Planes (General Aircraft manufactured WW2 planes in Victoria Road and Heathrow is a large local employer); Trains - (railway line came to Feltham in 1848 and the town changed dramatically as a result); Cars (Aston Martins were built in Feltham); Trams (trams were built in Feltham, including one of the most important models known as the 'Feltham')
THEME: Feltham's market gardens e.g. A.W Smith ('cabbage king' and grower of Feltham First pea); H. Veitch (Feltham
Beauty apple); A.H Moss (grew and exported one million roses annually)
THEME: Old Feltham pubs e.g. Cricketers, Locomotive, Prince of Wales, Queen's Arms, Railway Hotel, Railway Tavern, Rose & Crown, Sawyer's Arms, White Lion, William IV
THEME: Events on Feltham Green e.g. Carnivals and fun fairs
THEME: Feltham's farms e.g. Horses, sheep, pigs; Blaize, Brook, Feltham, Holly and Sparrow farms
THEME: Fires and Feltham e.g. The great fire of 1634 (most of Feltham village was destroyed); Blaize farm (named so because the fire was thought to have started there); Feltham's first fire fighting vehicle was unveiled on the Green in 1907; Minimax (manufactured fire extinguishers and remains of the factory now an Art Deco landmark near Minimax Corner)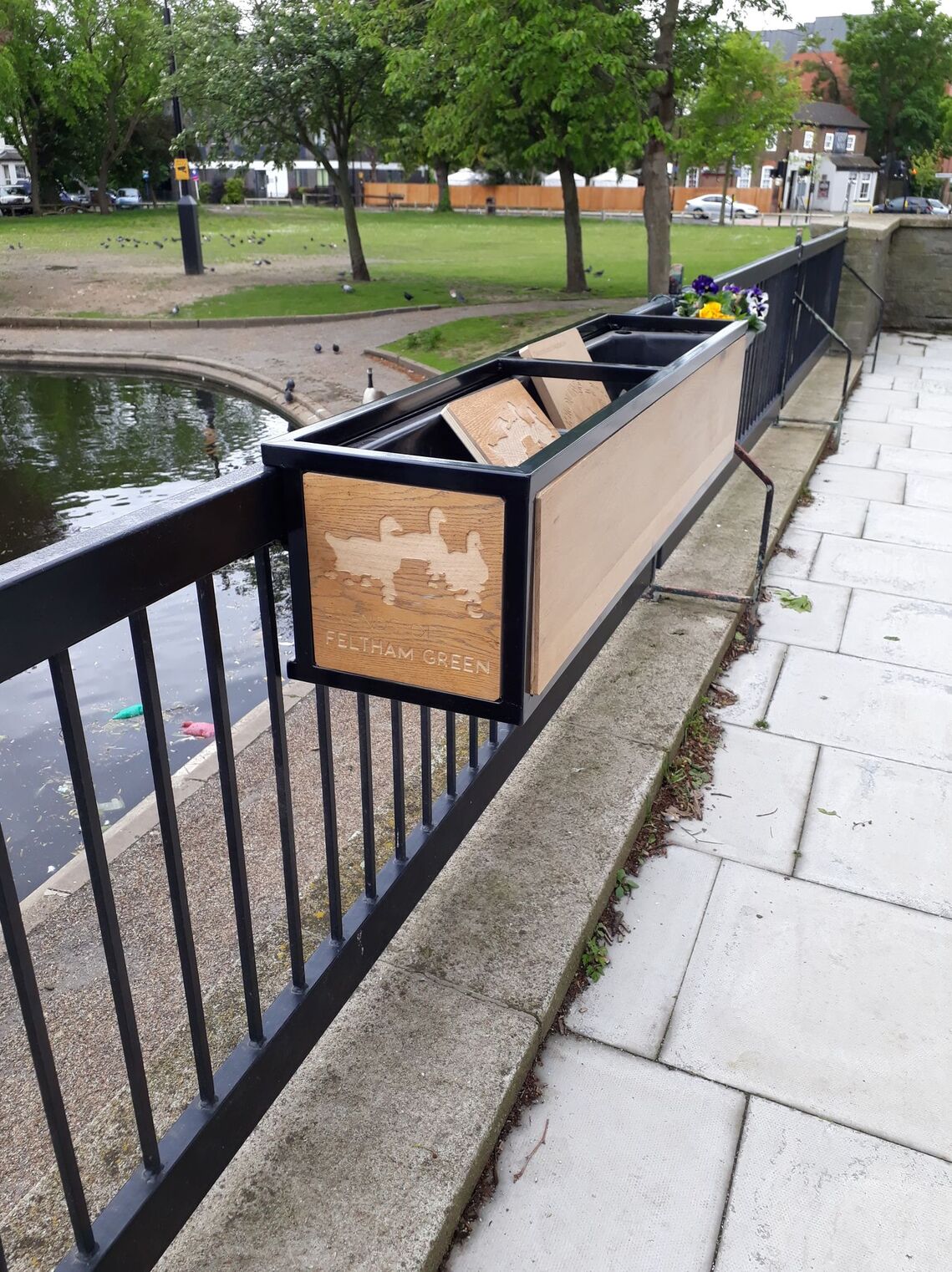 MARCH 2021
We are gathering ideas about what to carve onto the fronts of the new oak planters to represent Feltham past and present. Suggestions so far include: poppies; the family crest of Admiral of the Fleet, Sir Roger Keyes, who unveiled the War Memorial by the Green on the High Street; references to Feltham's history of market gardening. We are keen to gather as many suggestions as possible from people who have pledged to our crowdfunding campaign and/or who have a local connection, so please let us have your ideas. A small panel, led by the Friends of Feltham Green's Chair, Angela Parton, will make the final choice. The planters will be made and carved during the summer, in time for planting up in the autumn. You can contact the Friends of Feltham Green by emailing us at felthamgreen@outlook.com We would love to hear from you. The deadline for making suggestions is April 16 2021.
ps If you know anyone who was planning to make a pledge – it isn't too late! We will be closing the crowdfunding campaign on 16 April and pledges can be made on the Spacehive platform until then. Thank you!
MARCH 2021
WE HAVE DONE IT. THE MAYOR OF LONDON PLEDGED TO OUR CAMPAIGN AND WE HAVE ACHIEVED OUR GOAL TARGET AND MORE, WHICH IS AMAZING.
SO WE ARE NOW ABLE TO GO FORWARD GETTING THE NINE OAK PLANTERS MADE AND INSTALLED.
DUE TO THE GREAT SUCCESS WE HAVE DECIDED TO CONTINUE TO RENOVATE OUR BELOVED WATER TROUGH. WE HOPE TO RE-ETCH THE INSCRIPTION ON FRONT AND SIDE AND PLANT IT UP WITH DROUGHT TOLERANT PLANTING TO ADVERTISE THE 21ST CENTURY ISSUE OF CLIMATE CHANGE AND HOW IMPORTANT IT IS TO CONSERVE WATER.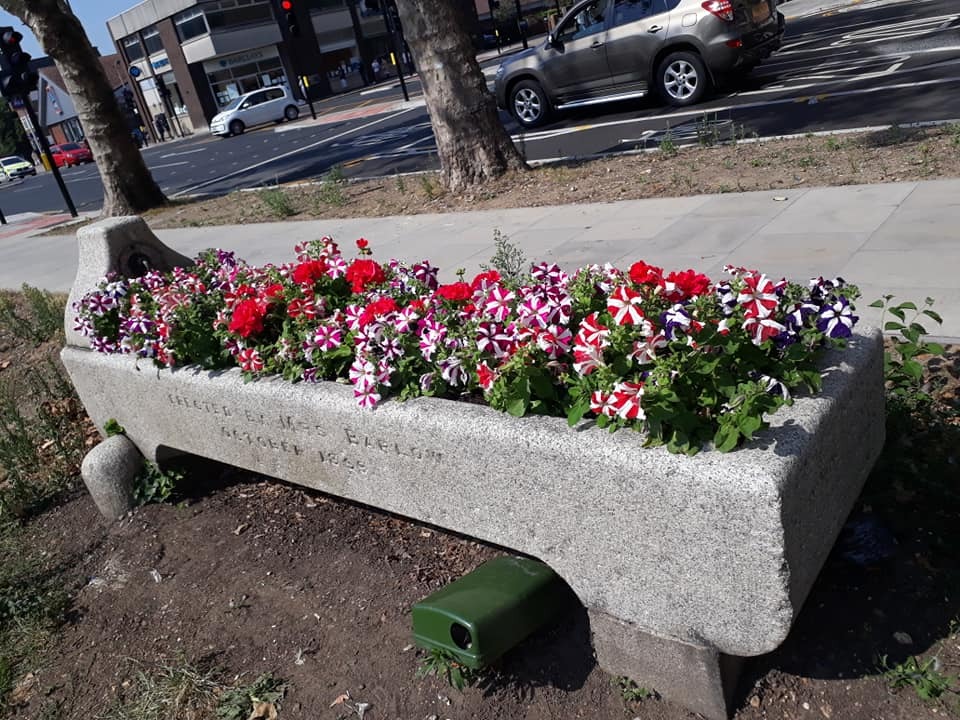 February 2021
The Friends group has put together a very exciting campaign called 'Flourishing Feltham Green' which went live on 11th February. A crowdfunding bid to raise money to replace the plastic planters along the railings opposite the War Memorial, with nine oak planters, designed and made by local people.
We have had such a great response so far, with one of the towns oldest businesses Lodge Bros pledging and sponsoring one planter. With many residents and organisations pledging and leaving words of support, I really do hope we are successful. Feltham deserves the best and together we can acheive the best. So please visit the main menu 'Flourishing Feltham Green' to find out how to support.
Also meetings are taking place to discuss 'phase 1' of the Freddie Mercury Memorial Garden. Hopefully works will start very soon.
January 2021
Last year Feltham Green was awarded a Green Flag 20/21. Our flag pole has now been relocated in front of what will be the new under 5's play/picnic area and very proudly the new green flag is flying high.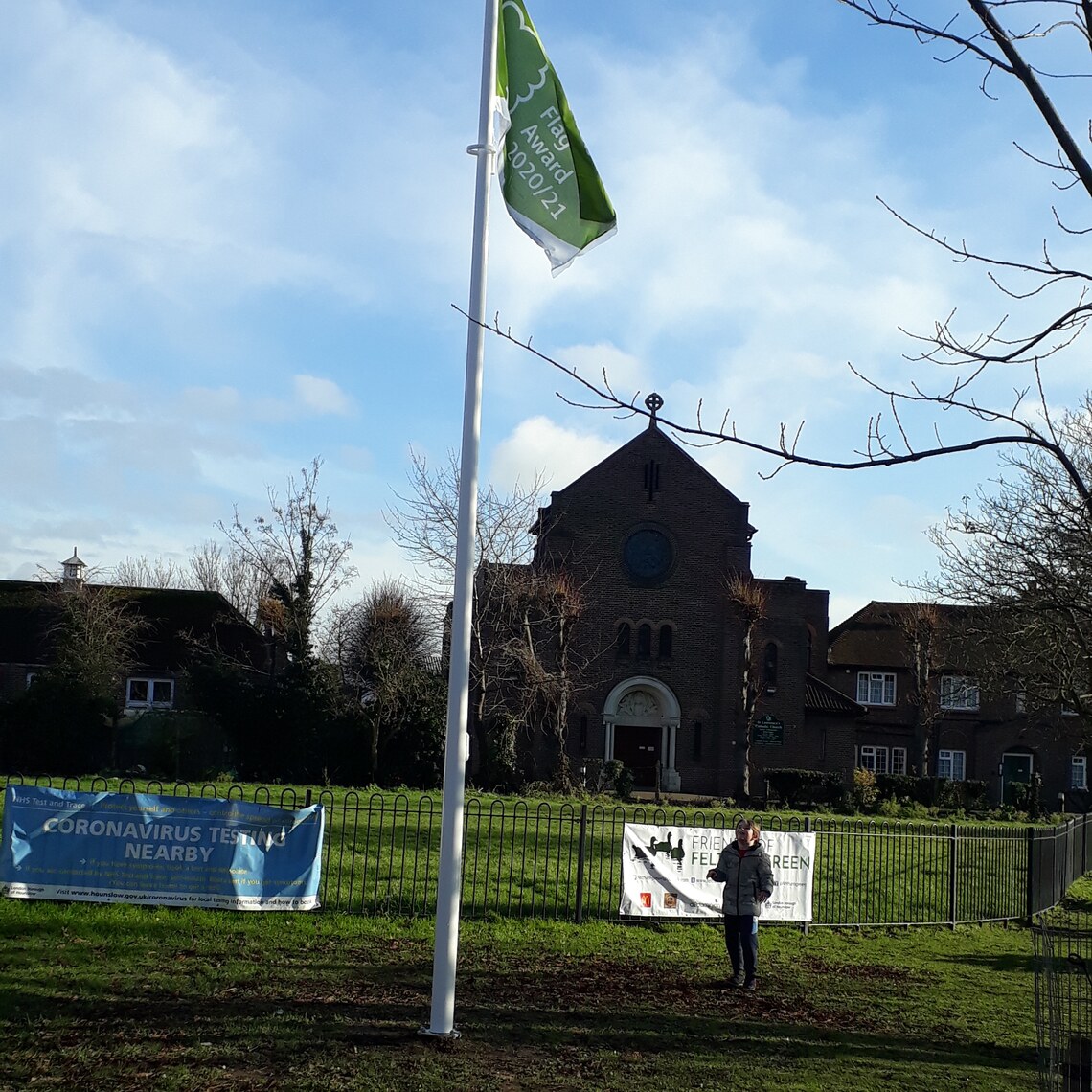 October 2020

Hounslow Council has now got planning permission to go ahead with improvements to Feltham Green and create the Freddie Mercury Memorial Garden. There is no timeline agreed when works will start, but hopefully early 2021.
Feltham Green has got back its Green Flag status. Many thanks to Greenspace360 and all the volunteers/residents who helped to achieve this. Looking forward seeing our new taller and newly positioned flag pole with 2020/2021 Green flag attached.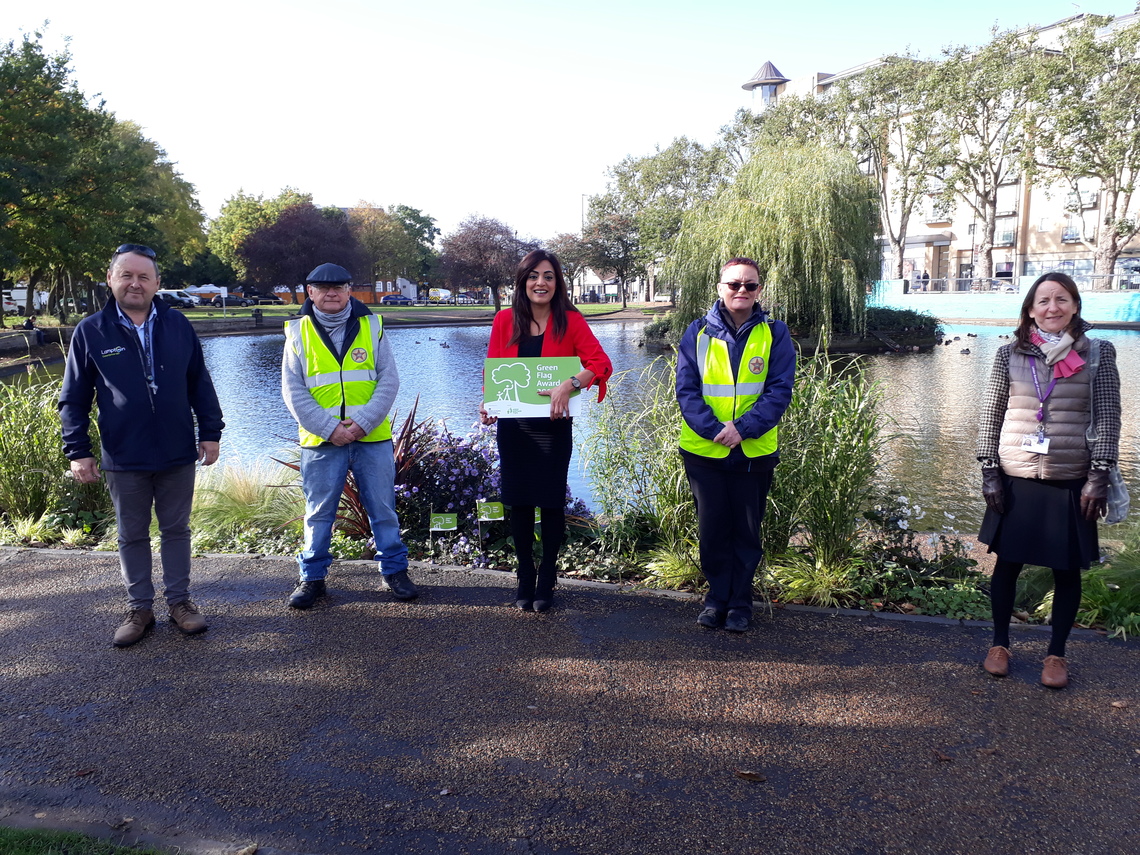 SEPTEMBER 2020
The Freddie Mercury Memorial star has now been painted gold in accordance with the wishes of Kashmira Bulsara (Freddie Mercury's sister) when she visited the memorial early this year. Thanks to Lodge Bros who carried out the works. Funded through the Gofundme campaign.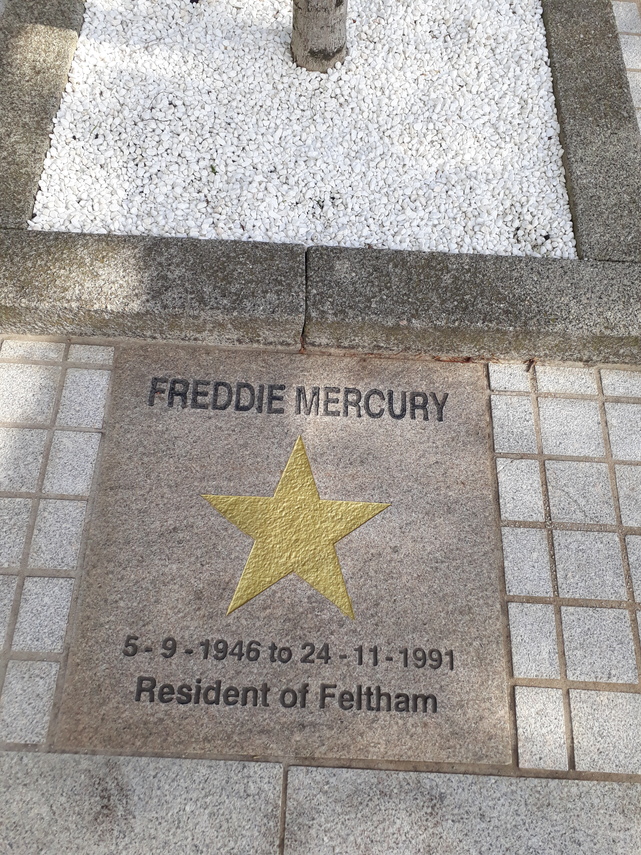 Friends of Feltham Green Facebook page has now nearly reached 1,000 followers, which is amazing.