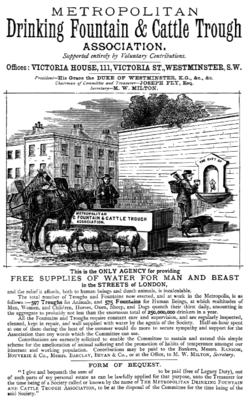 Metropolitan Drinking Fountain and Cattle Trough Association was established by Samuel Gurney a member of parliment and Edward Thomas Wakefield Barrister in 1859, to provide free drinking water. It was originally Metroplitan Free Drinking Fountain Association changed to include Troughs in 1867 to support animal welfare.
The first fountain was erected in London/Holborn Hill funded by Gurney 21st April 1859 and became an instant success. so subsequently many more fountains were placed opposite pubs or church yards. By 1867 there were over 800 drinking fountains in UK and ornamental and memorial fountains donated by private benefactors.
As horse traffic declined due to the invention of the motor car, troughs were no longer built, and with the concern over hygiene the metal cups were replaced with bubblers (water jets). During the WW1, the UK goverment licenced pub hours and beer was watered down.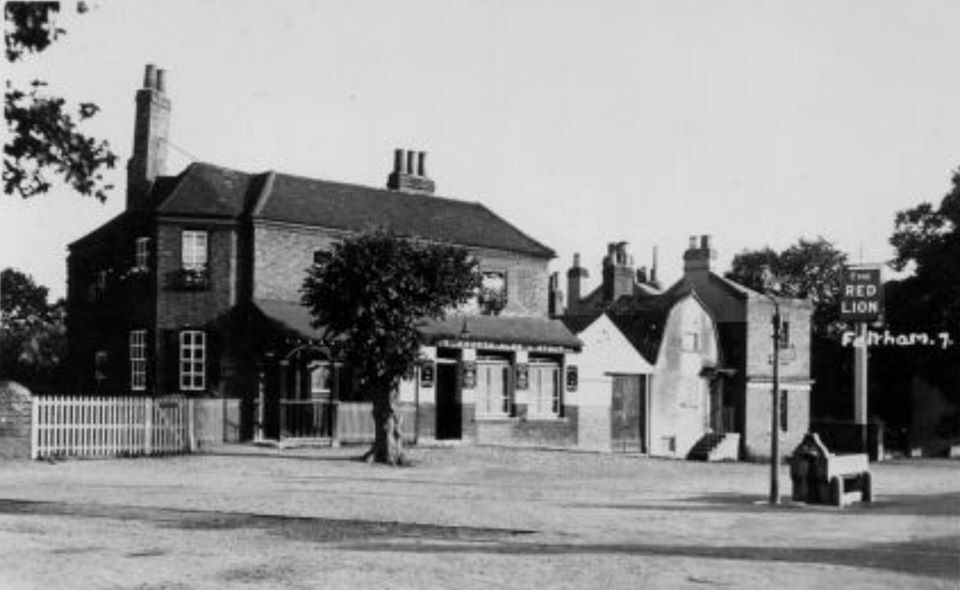 Red Lion Pub, Feltham with Trough 1930's
Feltham's Trough was originally out side the Red Lion Pub (pictured above, now named KTM ROX. Then it was moved to the out skirts of Feltham Green where it stands to this day. Inscritpion on the Trough shows it was funded by a MRS BARLOW 1899. There is a twin trough with the same inscription located in LYNTON small town on the Exmoor coast in Devon. There is no record who exactly Mrs Barlow was but maybe a keen horse lover or member of RSPCA.
In June 2022, with the extra funding from the 'Flourishing Feltham Green' crowdfunding campaign. The group asked Lodge Bros stone mason contractor A.W. Brooker to re-etch the wording on the High St side also on the trough. Plus give a very needed clean of the granite stone and highlighting the wording more in grey paint.
Andy Brooker who carried out the works, has given a short summary of where the granite was sourced and how the trough was made and etched around 1899. Plus on closure inspection which is most fascinating that he found shrapnel markings maybe from WW2.
ADDITIONAL INFORMATION (by AW.Brooker & Sons)
Cornish Granite fine axed face (that's the finish )
The time when the Trough was made, it would have been completely hand made from start to finish.
The banker masons would have shaped and finished the granite with Fire sharp chisels, which would have be a very time consuming job.
Today we use Tungsten tipped chisels, which keep a nice edge, but back then, the chisels being fire sharp would break and lose their edge very quickly, so it would be the job of the
Apprentice to keep them sharp and Also learn how to put a good straight edge on the chisel, While helping Mason.
The final part of the job, is the lettering, once the Banker Mason has finished, the Lettercutter would then mark out and hand cut the epitaph, it would then go back to the Apprentice to paint the lettering in eg black paint on a light grey granite, so as you can see there's a lot of work gone into making a simple water trough.
I would say there's roughly a good week's work, plus more than one man working on it.
The other thing to note is some of the large chips look like Shrapnel damage from WW2 (very similar to what I saw on Kew Bridge when I was working on their plaque).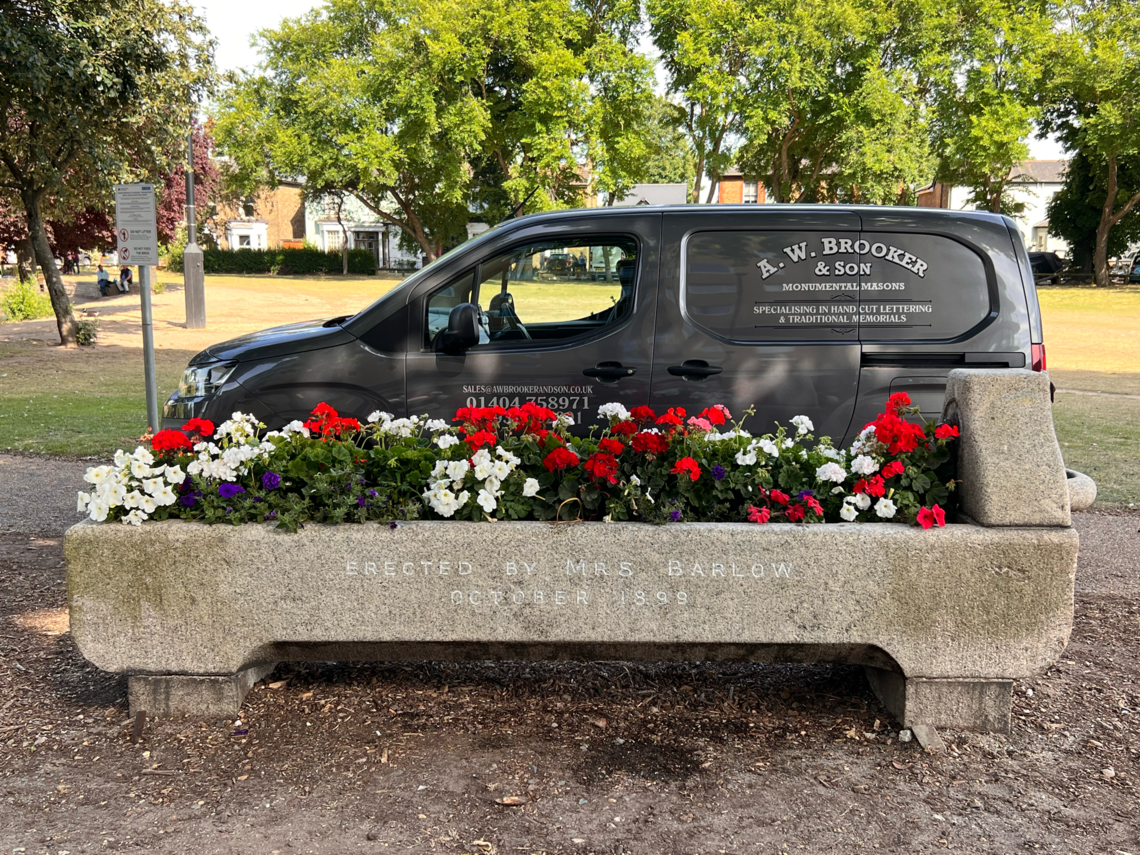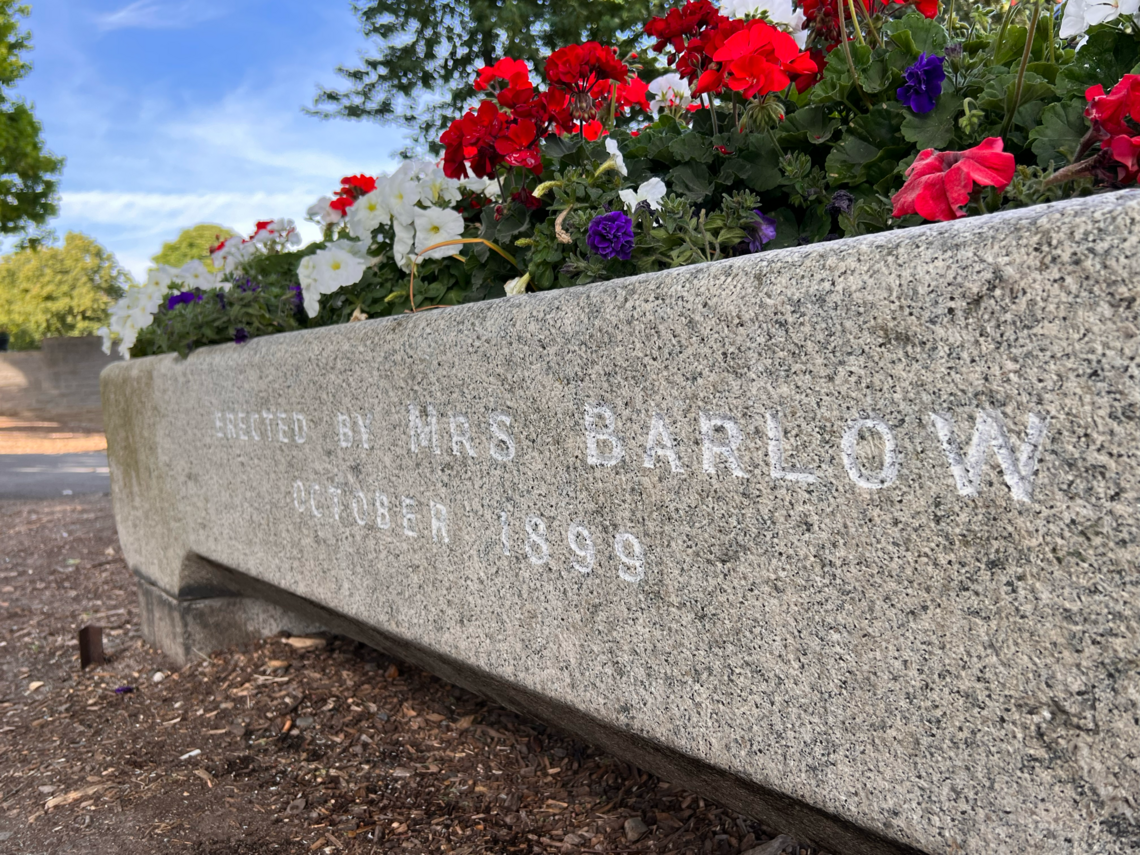 Water Trough 2022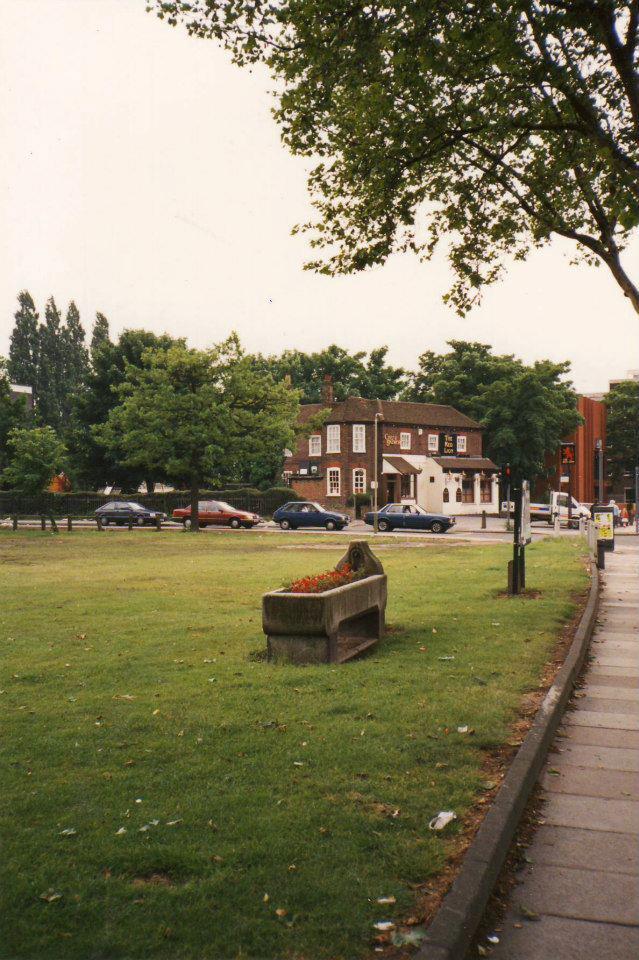 Feltham Green c1970's Trough

The trough today is planted up in memory of Mark Savage a resident who greatly supported community groups.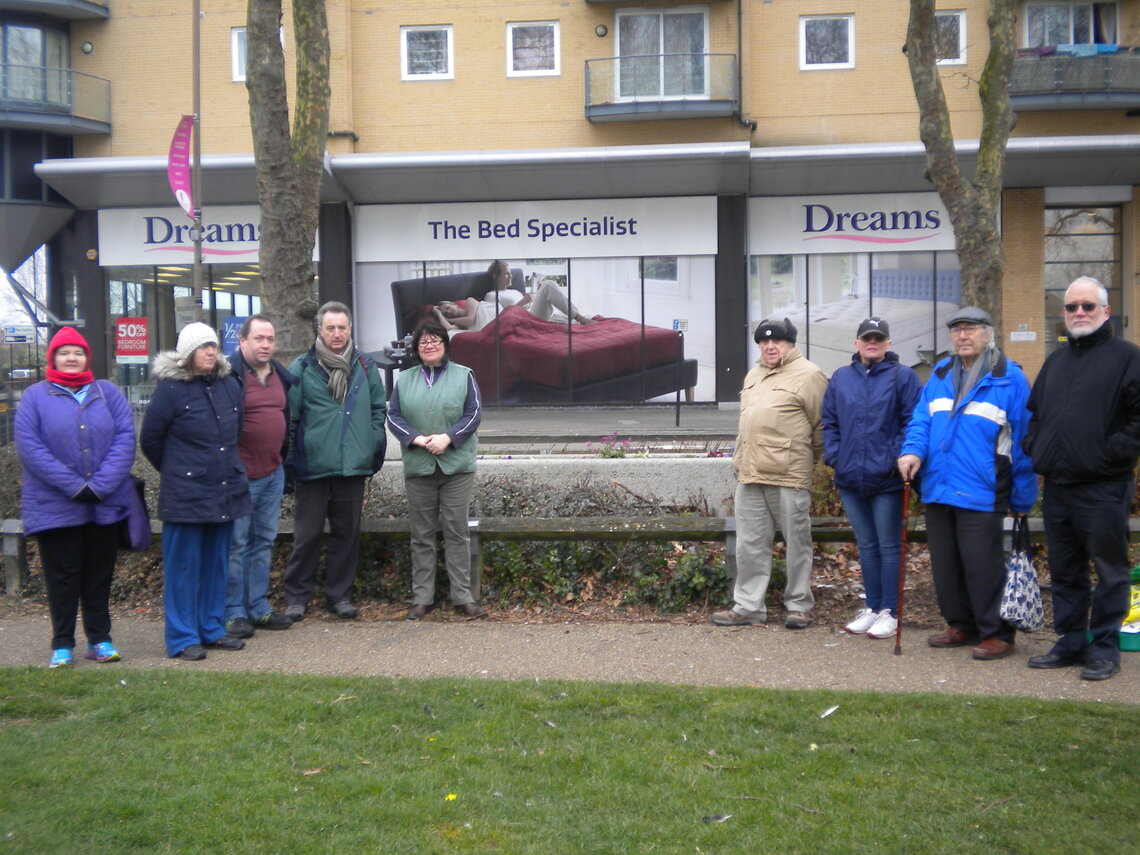 Planting of trough in 2016
He was a member of Feltham History Group and before passed away Secretary of Friends of Bridge House Pond. Plus being admin to a very popular local history facebook page The Feltham, Hanworth and Bedfont Appreciation Society. Which one day Mark posted while watching a quiz show that one of the questions involved the 'Feltham Beauty' Cox pippin apple. Was originally grown in Veitch nursery, Langely, Buckinghamshire. The apple won a award at the royal Horticultural Society in 1908. Harry Veitch brought land in Feltham down Bedfont Lane, so must of fell in love with the Village to name the apple after it.
Through the wonderful work of Friends of Bridge House pond, creating a small Market Garden which now grows the 'Feltham Beauty'. Planted in 2019 in memory of Mark also with a small plaque donated by Lodge Bros.
Friends of Bridge House Pond Facebook Page link
https://www.facebook.com/groups/BridgeHousePond/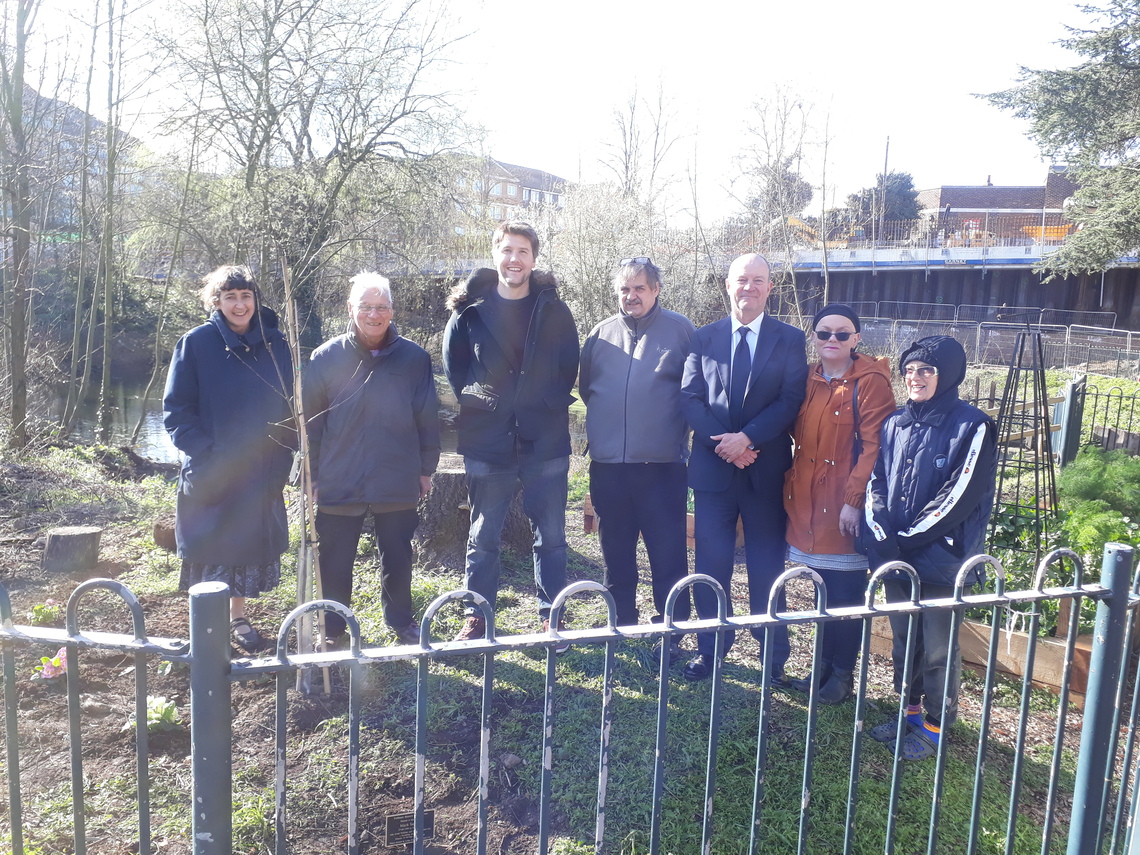 Bridge House Pond 2019